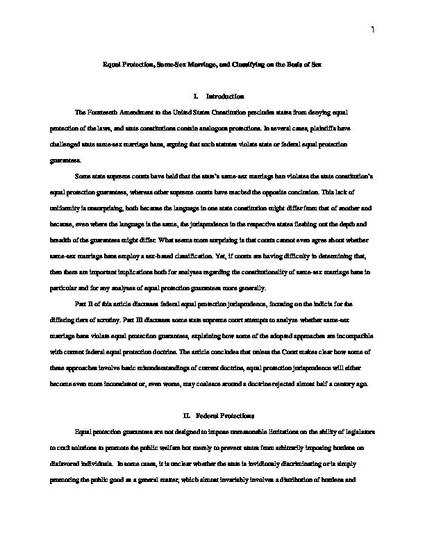 Unpublished Paper
Equal Protection, Same-Sex Marriage, and Classifying on the Basis of Sex
ExpressO (2010)
Abstract
Over the past several years, several plaintiffs have challenged same-sex marriage bans under the respective state constitution's equal protection guarantees. Some state supreme courts have struck down those laws on that basis, whereas others have not. This lack of uniformity is unsurprising, both because the language in one state constitution might differ from that of another and because, even where the language is the same, the jurisprudence in the respective states fleshing out the depth and breadth of the guarantees might differ. What seems more surprising is that courts cannot even agree about whether same-sex marriage bans employ a sex-based classification. Yet, if courts are having difficulty in determining that, then there are important implications both for analyses regarding the constitutionality of same-sex marriage bans in particular and for any analyses of equal protection guarantees more generally. Unless the Court makes clear how some of approaches adopted by the state supreme courts involve basic misunderstandings of current doctrine, equal protection jurisprudence will either become even more inconsistent or, even worse, may coalesce around a doctrine rejected almost half a century ago.
Keywords
same-sex marriage,
equal protection,
invidious,
sex-based,
orientation-based
Publication Date
July 26, 2010
Citation Information
Mark Strasser. "Equal Protection, Same-Sex Marriage, and Classifying on the Basis of Sex"
ExpressO
(2010)
Available at: http://works.bepress.com/mark_strasser/20/