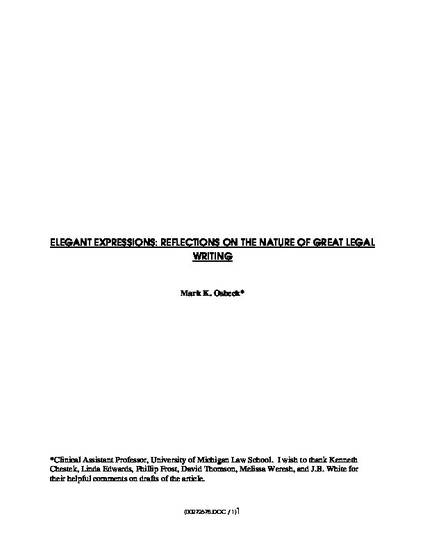 Unpublished Paper
Elegant Expressions: Reflections on the Nature of Great Legal Writing
ExpressO (2010)
Abstract
The scholarly literature on legal writing is replete with various tips on how legal writers can improve their writing. Yet no scholar has yet provided, or even attempted to provide, a comprehensive account as to what it is that characterizes the best legal writing. This article fills that void. It analyzes the nature of excellence in legal writing and argues that great legal writing has four essential qualities: it is clear, it is concise, it is engaging, and it is elegant. The scholarly literature has ignored this last quality, focusing only on clarity, conciseness, and engagement. Yet it is the quality of elegance, I argue, that distinguishes great legal writing from legal writing that is merely good. The article also discusses at length what it is that makes writing clear, concise, engaging, and elegant. And it concludes that the legal writer can optimize these qualities only by paying close attention to contextual considerations and by striking a reasonable balance among the writer's sometimes conflicting objectives.
Keywords
legal writing,
elegance,
clarity,
conciseness,
engagement,
context,
competing interests,
great legal writing
Publication Date
September 27, 2010
Citation Information
Mark K. Osbeck. "Elegant Expressions: Reflections on the Nature of Great Legal Writing"
ExpressO
(2010)
Available at: http://works.bepress.com/mark_osbeck/1/