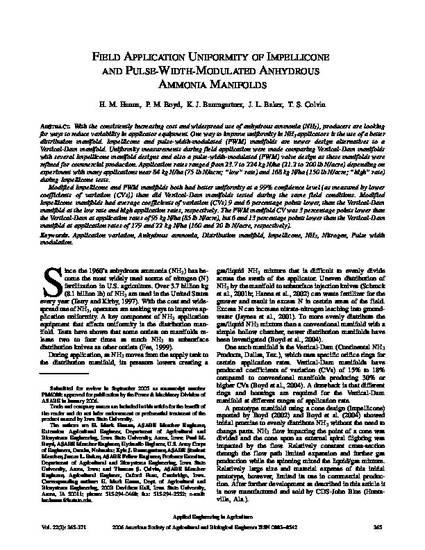 Article
Field Application Uniformity of Impellicone and Pulse-Width-Modulated Anhydrous Ammonia Manifolds
Applied Engineering in Agriculture
Publication Version
Published Version
Publication Date
1-1-2006
Abstract
With the consistently increasing cost and widespread use of anhydrous ammonia (NH3), producers are looking for ways to reduce variability in applicator equipment. One way to improve uniformity in NH3 applicators is the use of a better distribution manifold. Impellicone and pulse-width-modulated (PWM) manifolds are newer design alternatives to a Vertical-Dam manifold. Uniformity measurements during field application were made comparing Vertical-Dam manifolds with several Impellicone manifold designs and also a pulse-width-modulated (PWM) valve design as these manifolds were refined for commercial production. Application rates ranged from 23.7 to 224 kg N/ha (21.2 to 200 lb N/acre) depending on experiment with many applications near 84 kg N/ha (75 lb N/acre; "low" rate) and 168 kg N/ha (150 lb N/acre; "high" rate) during Impellicone tests. Modified Impellicone and PWM manifolds both had better uniformity at a 99% confidence level (as measured by lower coefficients of variation (CVs)) than did Vertical-Dam manifolds tested during the same field conditions. Modified Impellicone manifolds had average coefficients of variation (CVs) 9 and 6 percentage points lower, than the Vertical-Dam manifold at the low rate and high application rates, respectively. The PWM manifold CV was 3 percentage points lower than the Vertical-Dam at application rates of 95 kg N/ha (85 lb N/acre), but 6 and 13 percentage points lower than the Vertical-Dam manifold at application rates of 179 and 22 kg N/ha (160 and 20 lb N/acre, respectively).
Rights
Works produced by employees of the U.S. Government as part of their official duties are not copyrighted within the U.S. The content of this document is not copyrighted.
File Format
application/pdf
Citation Information
H. Mark Hanna, Paul M. Boyd, Kyle J. Baumgartner, James L. Baker, et al.. "Field Application Uniformity of Impellicone and Pulse-Width-Modulated Anhydrous Ammonia Manifolds"
Applied Engineering in Agriculture
Vol. 22 Iss. 3 (2006) p. 365 - 371
Available at: http://works.bepress.com/mark_hanna/81/