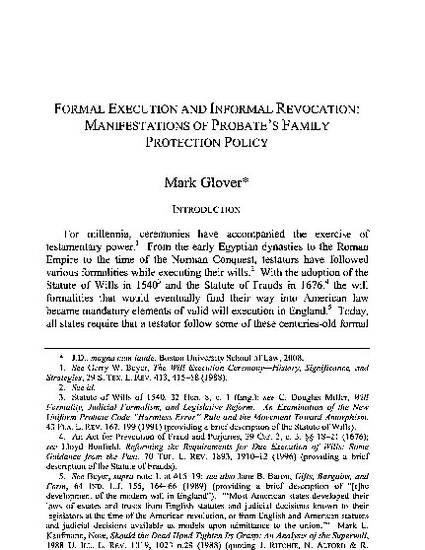 Article
Formal Execution and Informal Revocation: Manifestations of Probate's Family Protection Function
Oklahoma City University Law Review (2009)
Abstract
Wills must be formally executed. To execute a valid will, a testator generally must comply with a formal process that requires a will to be written, signed by the testator, and attested by two witnesses. By contrast, wills may be informally revoked. The testator may revoke a will simply by destroying it. Although this inconsistency has largely been overlooked, this article argues that both the formal will-execution process and the informal will-revocation process are mechanisms by which the law of wills attempts to protect families. A formal will-execution process protects the decedent's family members primarily by making it difficult for the decedent to disinherit them. If a decedent leaves no will, the decedent's estate is distributed through the legislatively prescribed estate plan of intestacy, which results in the estate being distributed within the family. The formal will-execution process represents a roadblock to the exercise of testamentary freedom and makes it less likely that the decedent will opt out of intestacy. Similarly, an informal will-revocation process protects families by making it easy for the testator to revoke a will and therefore to opt back into intestacy. By pushing decedents toward intestacy, both the formality of will-execution and the informality of will-revocation serve a family protection function, and their roles in furthering this policy should not be ignored in the debates over reform to the will-execution and will-revocation processes.
Citation Information
Mark Glover,
Formal Execution and Informal Revocation: Manifestations of Probate's Family Protection Policy
, 34
Oklahoma City University Law Review
411 (2009).