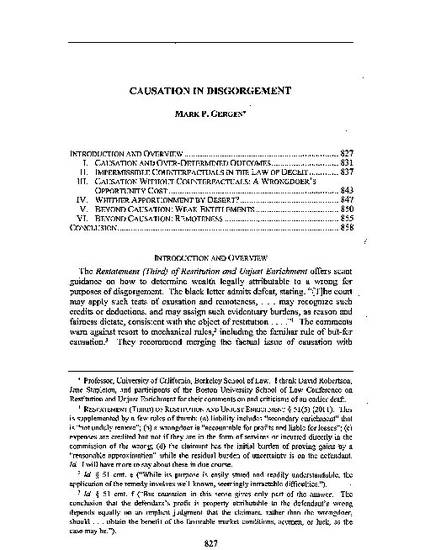 Article
Causation in Disgorgement
Boston University Law Review
Publication Date
5-1-2012
Abstract
The Restatement (Third) of Restitution and Unjust Enrichment offers scant guidance on how to determine wealth legally attributable to a wrong for purposes of disgorgement. The black letter admits defeat, stating, "[T]he court may apply such tests of causation and remoteness, . . . may recognize such credits or deductions, and may assign such evidentiary burdens, as reason and fairness dictate, consistent with the object of restitution . . . ."' The comments warn against resort to mechanical rules, including the familiar rule of but-for causation. They recommend merging the factual issue of causation with issues of policy and fairness into a holistic judgment about whether justice is served by allowing the claimant to recover wealth in the wrongdoer's hand." The recommended approach resembles an old approach to determining harm legally attributable to negligent conduct. The factual issue of causation and non-factual considerations of policy and fairness were merged into questions about whether the harm was proximately caused by the conduct or whether the conduct was a "substantial factor" in producing the harm. Most American tort theorists have come to reject a holistic approach that "fails to distinguish the empirical issues of causal contribution from the normative issue of the proper extent of legal responsibility for tortiously caused consequences." Adopting this position, the Restatement (Third) of Torts; Liability for Physical and Emotional Harm strongly endorses separating factual issues of causation from other considerations, which are addressed under the topic "scope of liability."
Citation Information
Mark P. Gergen. "Causation in Disgorgement"
Boston University Law Review
Vol. 92 (2012) p. 827
Available at: http://works.bepress.com/mark_gergen/42/