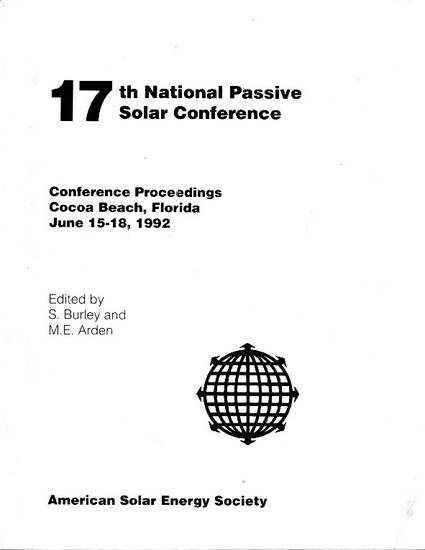 Presentation
A Comparative Review of Daylight Planning Tools and a Rule-of-Thumb for Street Width to Building Height
Proceedings of the 17th National Passive Solar Conference, American Solar Energy Society, June 15-18 (1992)
Abstract
This study gives a comparative analysis of available daylight planning tools and develops a rule-of-thumb method for determining street width to building height ratios, related to actual illumination levels inside urban buildings. Nine daylight planning tools for site planning and urban design decisions were identified, their characteristics compared, and the tools classified. Six of these tools were compared by applying them to a 200' x 400' (651 x 122 m) urban block at 40 degrees latitude. FAR allowed by the generated envelope was calculated for each tool and compared. A wide range of allowable building envelopes was found. All prescriptive tools either specified or implied a street height to width ratio (H/W), but none provided a quantified basis for its proportion or exposure plane. A study was initiated to determine H/W in relation to average an minimum daylight factor within a building. A test was conducted using physical modeling in a mirror box artificial sky. Results of this test, plotting H/W against average daylight factor can be used as a preliminary design tool or as a way to determine zoning restrictions, while protecting daylight access.
Publication Date
June, 1992
Citation Information
Mark DeKay. "A Comparative Review of Daylight Planning Tools and a Rule-of-Thumb for Street Width to Building Height"
Proceedings of the 17th National Passive Solar Conference, American Solar Energy Society, June 15-18
(1992)
Available at: http://works.bepress.com/mark_dekay/18/