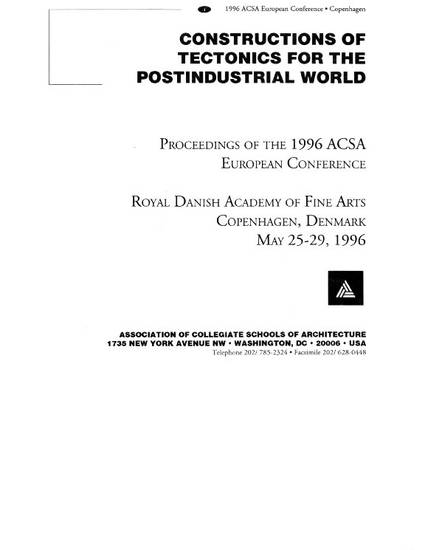 Article
Possible Evolution of Technology Education in Architecture Schools
Construction of Tectonics for the Postindustrial World: Proceedings of the 1996 ACSA European Conference, May 25-29 (1996)
Abstract
Architects, educators, and students recognize the environmental impacts of buildings, but architectural education has repeatedly failed to graduate students who can design buildings that reduce these environmental impacts. Design education has so far been incapable of addressing problems associated with the environmental crisis: 1) technical incompetence of graduates; 2)ecological illiteracy of graduates; 3) deep cultural divisions in schools between design and technical perspectives. This paper proposes that the causes of this failure are a combination of content, structural and methodological problems with current curricula. These include: 1) predominant use of a mechanistic paradigm; 2) disconnection of technology from design; 3) narrow reliance on scientific and analytic methods. The paper outlines an evolutionary method of understanding necessary shifts, proposing content, structural and methodological evolutions across three levels of perception: rational, mythological and evolutionary.
Publication Date
May, 1996
Citation Information
Mark DeKay. "Possible Evolution of Technology Education in Architecture Schools"
Construction of Tectonics for the Postindustrial World: Proceedings of the 1996 ACSA European Conference, May 25-29
(1996)
Available at: http://works.bepress.com/mark_dekay/13/