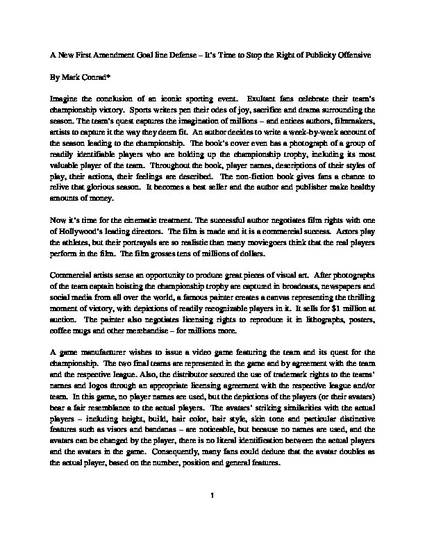 Unpublished Paper
A New First Amendment Goal line Defense – It's Time to Stop the Right of Publicity Offensive
ExpressO (2013)
Abstract
What began as a novel subset of traditional privacy rights has led courts and legislatures to create a property-based right of publicity jurisprudence that has gone beyond its original goals and now crept into the traditional First Amendment domain of protection of artistic and creative rights. In the last two decades, courts have applied the "right of publicity" doctrine in various artistic contexts and various tests devised by the courts to balance the competing interests of free speech and commercial rights to one's identity and image have produced a panoply of rulings, exacerbated by a lack of federal law and consistent standards over the issue. Focusing on the recent Hart and Keller rulings involving avatar depictions of college athletes, this article proposes a new standard that creates a uniform national standard, gives a greater presumption of First Amendment protection and limits the right of publicity to strictly commercial speech.
Keywords
Right of Publicity,
First Amendment,
Sports,
Digital Games
Publication Date
August 30, 2013
Citation Information
Mark A. Conrad. "A New First Amendment Goal line Defense – It's Time to Stop the Right of Publicity Offensive"
ExpressO
(2013)
Available at: http://works.bepress.com/mark_conrad/1/