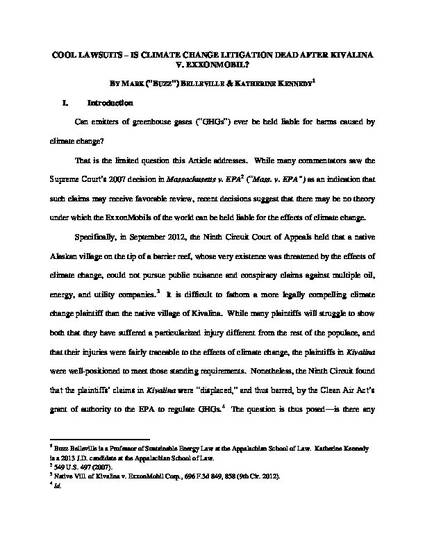 Article
Cool Lawsuits: Is Climate Change Litigation Dead After Kivalina v. ExxonMobil?
ASL Journal of Natural Resources Law (2013)
Abstract
Can emitters of greenhouse gases ("GHGs") ever be held liable for harms caused by climate change? That is the limited question this Article addresses. While many commentators saw the Supreme Court's 2007 decision in Massachusetts v. EPA ("Mass. v. EPA") as an indication that such claims may receive favorable review, recent decisions suggest that there may be no theory under which the ExxonMobils of the world can be held liable for the effects of climate change. Specifically, in September 2012, the Ninth Circuit Court of Appeals held that a native Alaskan village on the tip of a barrier reef, whose very existence was threatened by the effects of climate change, could not pursue public nuisance and conspiracy claims against multiple oil, energy, and utility companies. It is difficult to fathom a more legally compelling climate change plaintiff than the native village of Kivalina. While many plaintiffs will struggle to show both that they have suffered a particularized injury different from the rest of the populace, and that their injuries were fairly traceable to the effects of climate change, the plaintiffs in Kivalina were well-positioned to meet those standing requirements. Nonetheless, the Ninth Circuit found that the plaintiffs' claims in Kivalina were "displaced," and thus barred, by the Clean Air Act's grant of authority to the EPA to regulate GHGs. The question is thus posed—is there any theory under which a GHG emitter can be forced to go to trial on whether their GHG-emitting actions have caused injury? The Article concludes that, while there are a myriad of difficult and legitimate challenges associated with trying to hold GHG emitters liable for the effects of climate change, the route taken by the Kivalina court is based on a questionable legal analysis and potentially represents a radical departure from environmental damage if taken to its logical extreme. Its legal analysis is questionable because it purports to rely on a 2008 Supreme Court decision that affirmed Exxon's liability for water pollution compensatory and punitive damages despite the presence of a comprehensive regulatory scheme under the Clean Water Act. It is potentially a far-reaching change in the law in that, taken to its logical conclusion, it would preclude all public nuisance claims for at least trans-state air and water pollution. If Kivalina becomes the law of the land, there does not appear to be any viable avenue for climate change plaintiffs to have their claims heard on the merits, regardless of the relief sought.
Keywords
kivalina,
climate change,
aep v. connecticut,
Massachusetts v. EPA,
climate litigation,
global warming,
displacement,
standing,
political question
Publication Date
Spring 2013
Citation Information
Mark L. Belleville. "Cool Lawsuits: Is Climate Change Litigation Dead After Kivalina v. ExxonMobil?"
ASL Journal of Natural Resources Law
Vol. 7 (2013)
Available at: http://works.bepress.com/mark_belleville/4/