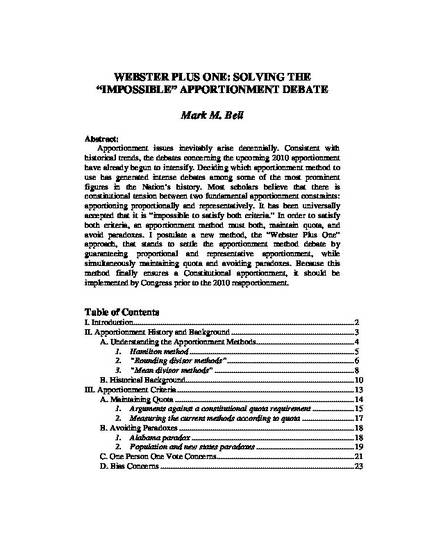 Unpublished Paper
Webster Plus One: Solving the "Impossible" Apportionment Debate
ExpressO (2009)
Abstract
Apportionment issues inevitably arise decennially. Consistent with historical trends, the debates concerning the upcoming 2010 apportionment have already begun to intensify. Deciding which apportionment method to use has generated intense debates among some of the most prominent figures in the Nation's history. Most scholars believe that there is constitutional tension between two fundamental apportionment constraints: apportioning proportionally and representatively. It has been universally accepted that it is "impossible to satisfy both criteria." In order to satisfy both criteria, an apportionment method must both, maintain quota, and avoid paradoxes. I postulate a new method, the "Webster Plus One" approach, that stands to settle the apportionment method debate by guaranteeing proportional and representative apportionment, while simultaneously maintaining quota and avoiding paradoxes. Because this method finally ensures a Constitutional apportionment, it should be implemented by Congress prior to the 2010 reapportionment.
Keywords
Apportionment,
Congressional,
Policy,
Webster,
Legislation,
Politics
Publication Date
March 30, 2009
Citation Information
Mark M Bell. "Webster Plus One: Solving the "Impossible" Apportionment Debate"
ExpressO
(2009)
Available at: http://works.bepress.com/mark_bell/2/