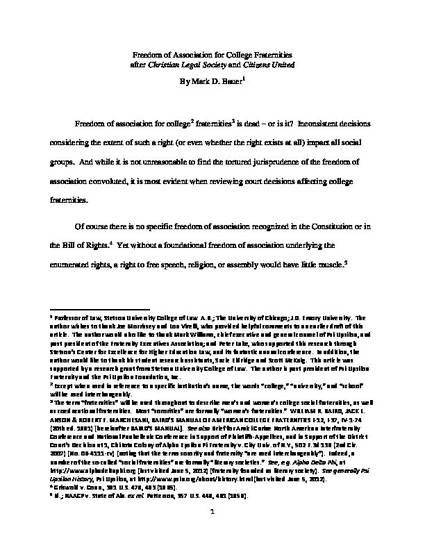 Article
Freedom of Association for College Fraternities after Christian Legal Society and Citizens United
Journal of College and University Law (2013)
Abstract
The First Amendment and its associational rights and freedoms are not tested by popular groups or causes. Only controversy can help establish the limits of constitutional rights. Fraternities and sororities ("fraternities") have certainly been controversial during their 236 years of existence.
Colleges often regulate fraternities more strictly than any other organization. Fraternity members may be barred from wearing their letters or mentioning their affinity during certain times of the year. Recruitment of new members is generally permitted only at certain times and in certain ways. Fraternity members may be required to engage in philanthropy or maintain a specific grade point average, where unaffiliated students have no such requirement. And many colleges have banned entire fraternity systems, while encouraging substantially similar themed dormitory housing, or fraternity-like living arrangement controlled by the school. At some point these restrictions certainly must violate the associational freedoms in the First Amendment.
Two recent Supreme Court cases suggest that there is a greater freedom of association for college fraternities than has been previously recognized by lower courts. This article discusses in great detail the history of fraternities and the freedom of association. The article discusses and critiques every relevant case and analyzes existing case law in light of Christian Legal Society and Citizens United. The article concludes by suggesting that these two Supreme Court cases may have opened a new path for fraternities to assert their associational freedoms under the First Amendment.
Keywords
Higher education,
freedom of association,
fraternities,
sororities,
first amendment
Citation Information
Mark D Bauer. "Freedom of Association for College Fraternities after Christian Legal Society and Citizens United"
Journal of College and University Law
Vol. 39 (2013)
Available at: http://works.bepress.com/mark_bauer/6/