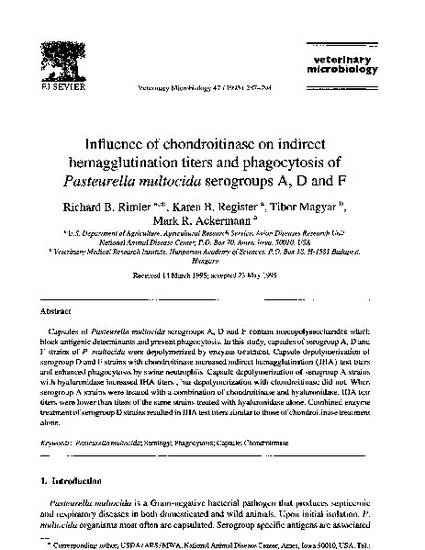 Article
Influence of chondroitinase on indirect hemagglutination titers and phagocytosis of Pasteurella multocida serogroups A, D and F
Veterinary Microbiology (1995)
Abstract
Capsules of Pasteurella multocida serogroups A, D and F contain mucopolysaccharides which block antigenic determinants and prevent phagocytosis. In this study, capsules of serogroup A, D and F strains of P. multocida were depolymerized by enzyme treatment. Capsule depolymerization of serogroup D and F strains with chondroitinase increased indirect hemagglutination (IHA) test titers and enhanced phagocytosis by swine neutrophils. Capsule depolymerization of serogroup A strains with hyaluronidase increased IHA titers, but depolymerization with chondroitinase did not. When serogroup A strains were treated with a combination of chondroitinase and hyaluronidase, IHA test titers were lower than titers of the same strains treated with hyaluronidase alone. Combined enzyme treatment of serogroup D strains resulted in IHA test titers similar to those of chondroitinase treatment alone.
Keywords
Pasteurella multocida,
Serology,
Phagocytosis,
Capsule,
Chondroitinase
Publication Date
December, 1995
Citation Information
Richard B. Rimler, Karen B. Register, Tibor Magyar and Mark R. Ackermann. "Influence of chondroitinase on indirect hemagglutination titers and phagocytosis of Pasteurella multocida serogroups A, D and F"
Veterinary Microbiology
Vol. 47 Iss. 3–4 (1995)
Available at: http://works.bepress.com/mark_ackermann/73/