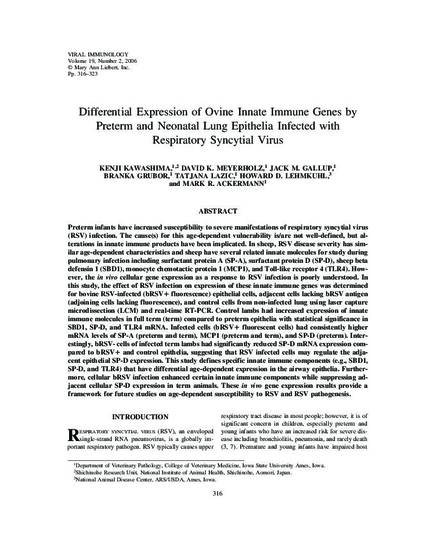 Article
Differential Expression of Ovine Innate Immune Genes by Preterm and Neonatal Lung Epithelia Infected with Respiratory Syncytial Virus
Viral Immunology
Publication Date
7-3-2006
DOI
10.1089/vim.2006.19.316
Abstract
Preterm infants have increased susceptibility to severe manifestations of respiratory syncytial virus (RSV) infection. The cause(s) for this age-dependent vulnerability is/are not well-defined, but alterations in innate immune products have been implicated. In sheep, RSV disease severity has similar age-dependent characteristics and sheep have several related innate molecules for study during pulmonary infection including surfactant protein A (SP-A), surfactant protein D (SP-D), sheep beta defensin 1 (SBD1), monocyte chemotactic protein 1 (MCP1), and Toll-like receptor 4 (TLR4). However, the in vivo cellular gene expression as a response to RSV infection is poorly understood. In this study, the effect of RSV infection on expression of these innate immune genes was determined for bovine RSV-infected (bRSV+ fluorescence) epithelial cells, adjacent cells lacking bRSV antigen (adjoining cells lacking fluorescence), and control cells from non-infected lung using laser capture microdissection (LCM) and real-time RT-PCR. Control lambs had increased expression of innate immune molecules in full term (term) compared to preterm epithelia with statistical significance in SBD1, SP-D, and TLR4 mRNA. Infected cells (bRSV+ fluorescent cells) had consistently higher mRNA levels of SP-A (preterm and term), MCP1 (preterm and term), and SP-D (preterm). Interestingly, bRSV- cells of infected term lambs had significantly reduced SP-D mRNA expression compared to bRSV+ and control epithelia, suggesting that RSV infected cells may regulate the adjacent epithelial SP-D expression. This study defines specific innate immune components (e.g., SBD1, SP-D, and TLR4) that have differential age-dependent expression in the airway epithelia. Furthermore, cellular bRSV infection enhanced certain innate immune components while suppressing adjacent cellular SP-D expression in term animals. These in vivo gene expression results provide a framework for future studies on age-dependent susceptibility to RSV and RSV pathogenesis.
Copyright Owner
Mary Ann Liebert, Inc.
File Format
application/pdf
Citation Information
Kenji Kawashima, David K. Meyerholz, Jack M. Gallup, Branka Grubor, et al.. "Differential Expression of Ovine Innate Immune Genes by Preterm and Neonatal Lung Epithelia Infected with Respiratory Syncytial Virus"
Viral Immunology
Vol. 19 Iss. 2 (2006) p. 316 - 323
Available at: http://works.bepress.com/mark_ackermann/7/