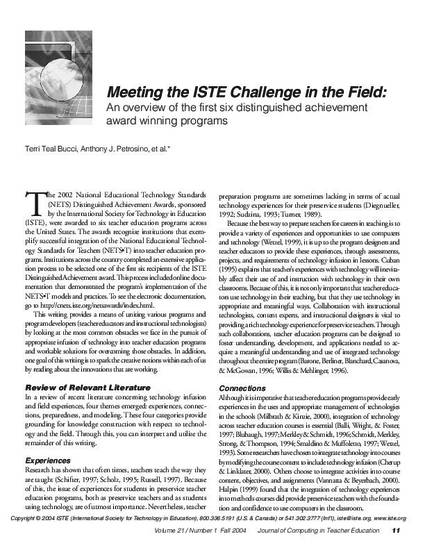 Article
Meeting the ISTE Challenge in the Field: An Overview of the First Six Distinguished Achievement Award Winning Programs
Journal of Computing in Teacher Education
Department/Program
Education
Publication Date
1-1-2004
Abstract
The 2002 National Educational Technology Standards (NETS) Distinguished Achievement Awards, sponsored by the International Society for Technology in Education (ISTE), were awarded to six teacher education programs across the United States. The awards recognize institutions that exemplify successful integration of the National Educational Technology Standards for Teachers (NETS[solid dot]T) into teacher education programs. Institutions across the country completed an extensive application process to be selected one of the first six recipients of the ISTE Distinguished Achievement award. This process included online documentation that demonstrated the program's implementation of the NETS[solid dot]T models and practices. This article provides a means of uniting various programs and program developers (teacher educators and instructional technologists) by looking at the most common obstacles they face in the pursuit of appropriate infusion of technology into teacher education programs and workable solutions for overcoming those obstacles.
Keywords
Awards,
Educational Technology,
Teacher Educators,
Standards,
Schools of Education,
Barriers,
Instructional Development,
Program Development,
Program Implementation,
Models,
Educational Practices,
Case Studies,
Field Experience Programs,
Program Effectiveness,
Technology Integration,
Computer Uses in Education,
Instructional Design,
Internet,
Electronic Learning,
Preservice Teacher Education,
Teacher Education Programs,
Teacher Education Curriculum,
Educational Environment,
Teaching Methods,
Curriculum Implementation,
Instructional Effectiveness,
Program Descriptions
Citation Information
Terri Teal Bucci, Anthony Petrosino, Randy Bell, Susan Cherup, et al.. "Meeting the ISTE Challenge in the Field: An Overview of the First Six Distinguished Achievement Award Winning Programs"
Journal of Computing in Teacher Education
Vol. 21 Iss. 1 (2004) p. 11 - 21
Available at: http://works.bepress.com/mark-hofer/85/