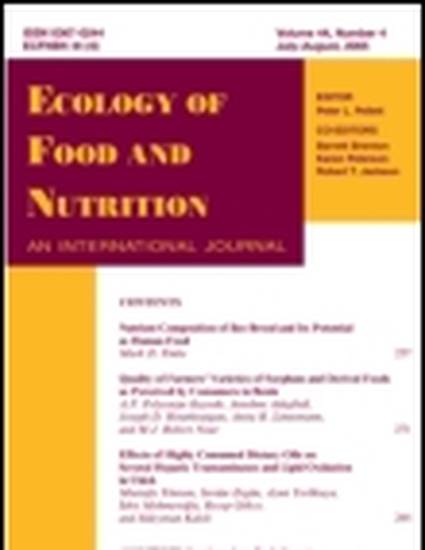 Article
Diet Patterns of First, Second and Third Generation Greek‐American Women
Ecology of Food and Nutrition (1984)
Abstract
Typical and pregnancy diet patterns of 135 first, second and third generation Greek‐American women of Sacramento, California, are reported. Significant differences were found in fourteen instances between respondent generation, composition of meals and timing of food intake. Older first generation women consumed less bread and cereals at the morning meal during pregnancy in the belief that restriction produces a lower birth weight baby. More second and third generation women increased bread and cereal consumption during pregnancy in the conviction that such foods were beneficial in promoting good health. Differences identified when comparing typical versus pregnancy dietary patterns support the positive relationship between foods in specific groups consumed and respondent generation, reinforcing the need for awareness of the latter when providing nutritional advice.
Foods believed especially good during pregnancy included milk; vegetables such as dandelion, chicory and mustard greens; meats such as lamb and chicken; and fruits such as apple, banana, lemon and orange. Items to be avoided during pregnancy included alcoholic beverages, highly spiced stews and casseroles, highly salted foods, carbonated beverages and sweets.
Foods believed especially good during the post‐partum 40‐day period included lamb, liver, milk, yogurt, soups prepared from fish, lentils or split pea and traditional avgolemenoprepared from eggs, lemon and rice. Dark green leafy vegetables as a food class are believed to promote good health at this time.
A strong trend of abandonment of traditional dietary patterns and adoption of "American" foods by third generation Greek‐Americans is identified. However, nutrition educators should have little difficulty in designing high quality diets for Greek‐American clients—diets supportive of both mother and fetus— from a range of traditional and non‐traditional foods widely used.
Keywords
Post‐partum diet,
Greek American diet,
ethnicity,
pregnancy,
galactagogues
DOI
10.1080/03670244.1984.9990787
Citation Information
Marjorie R Freedman and Louis E. Grivetti. "Diet Patterns of First, Second and Third Generation Greek‐American Women"
Ecology of Food and Nutrition
Vol. 14 Iss. 3 (1984) p. 185 - 204 ISSN: 0367-0244
Available at: http://works.bepress.com/marjorie_freedman/30/