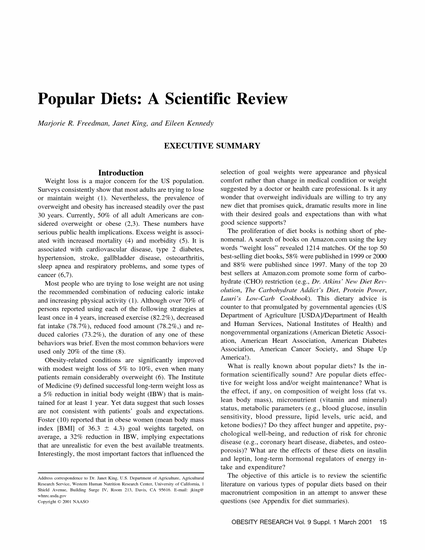 Article
Popular Diets: A Scientific Review
Obesity Research (2001)
Abstract
Weightloss is a major concern for the US population. Surveys consistently show that most adults are trying to lose or maintain weight (1). Nevertheless, the prevalence of overweight and obesity has increased steadily over the past 30 years. Currently, 50% of all adult Americans are considered overweight or obese (2,3). These numbers have serious public health implications. Excess weight is associated with increased mortality (4) and morbidity (5). It is associated with cardiovascular disease, type 2 diabetes, hypertension, stroke, gallbladder disease, osteoarthritis, sleep apnea and respiratory problems, and some types of cancer (6,7).
Most people who are trying to lose weight are not using the recommended combination of reducing caloric intake and increasing physical activity (1). Although over 70% of persons reported using each of the following strategies at least once in 4 years, increased exercise (82.2%), decreased fat intake (78.7%), reduced food amount (78.2%,) and reduced calories (73.2%), the duration of any one of these behaviors was brief. Even the most common behaviors were used only 20% of the time (8).
Obesity-related conditions are significantly improved with modest weight loss of 5% to 10%, even when many patients remain considerably overweight (6). The Institute of Medicine (9) defined successful long-term weight loss as a 5% reduction in initial body weight (IBW) that is maintained for at least 1 year. Yet data suggest that such losses are not consistent with patients' goals and expectations. Foster (10) reported that in obese women (mean body mass index [BMI] of 36.3 ± 4.3) goal weights targeted, on average, a 32% reduction in IBW, implying expectations that are unrealistic for even the best available treatments. Interestingly, the most important factors that influenced the selection of goal weights were appearance and physical comfort rather than change in medical condition or weight suggested by a doctor or health care professional. Is it any wonder that overweight individuals are willing to try any new diet that promises quick, dramatic results more in line with their desired goals and expectations than with what good science supports?
The proliferation of diet books is nothing short of phenomenal. A search of books on 
Amazon.com
 using the key words "weight loss" revealed 1214 matches. Of the top 50 best-selling diet books, 58% were published in 1999 or 2000 and 88% were published since 1997. Many of the top 20 best sellers at 
Amazon.com
 promote some form of carbohydrate (CHO) restriction (e.g., 
Dr. Atkins' New Diet Revolution
,
The Carbohydrate Addict's Diet
, 
Protein Power
, 
Lauri's Low-Carb Cookbook
). This dietary advice is counter to that promulgated by governmental agencies (US Department of Agriculture [USDA]/Department of Health and Human Services, National Institutes of Health) and nongovernmental organizations (American Dietetic Association, American Heart Association, American Diabetes Association, American Cancer Society, and Shape Up America!).
What is really known about popular diets? Is the information scientifically sound? Are popular diets effective for weight loss and/or weight maintenance? What is the effect, if any, on composition of weight loss (fat vs. lean body mass), micronutrient (vitamin and mineral) status, metabolic parameters (e.g., blood glucose, insulin sensitivity, blood pressure, lipid levels, uric acid, and ketone bodies)? Do they affect hunger and appetite, psychological well-being, and reduction of risk for chronic disease (e.g., coronary heart disease, diabetes, and osteoporosis)? What are the effects of these diets on insulin and leptin, long-term hormonal regulators of energy intake and expenditure?
The objective of this article is to review the scientific literature on various types of popular diets based on their macronutrient composition in an attempt to answer these questions (see Appendix for diet summaries).
Publication Date
March, 2001
Citation Information
Marjorie R. Freedman, Janet King and Eileen Kennedy. "Popular Diets: A Scientific Review"
Obesity Research
Vol. 9 Iss. S3 (2001) p. 1S - 40S ISSN: 1930-739X
Available at: http://works.bepress.com/marjorie_freedman/26/