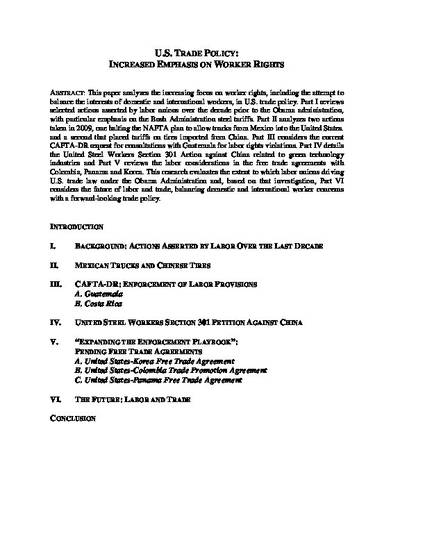 Unpublished Paper
U.S. Trade Policy: Increased Emphasis on Worker Rights
ExpressO (2011)
Abstract
This paper analyzes the increasing focus on worker rights, including the attempt to balance the interests of domestic and international workers, in U.S. trade policy. Part I reviews selected actions asserted by labor unions over the decade prior to the Obama administration, with particular emphasis on the Bush Administration steel tariffs. Part II analyzes two actions taken in 2009, one halting the NAFTA plan to allow trucks from Mexico into the United States. and a second that placed tariffs on tires imported from China. Part III considers the current CAFTA-DR request for consultations with Guatemala for labor rights violations. Part IV details the United Steel Workers Section 301 Action against China related to green technology industries and Part V reviews the labor considerations in the free trade agreements with Colombia, Panama and Korea. This research evaluates the extent to which labor unions driving U.S. trade law under the Obama Administration and, based on that investigation, Part VI considers the future of labor and trade, balancing domestic and international worker concerns with a forward-looking trade policy.
Publication Date
September 1, 2011
Citation Information
Marisa Anne Pagnattaro. "U.S. Trade Policy: Increased Emphasis on Worker Rights"
ExpressO
(2011)
Available at: http://works.bepress.com/marisa_pagnattaro/4/