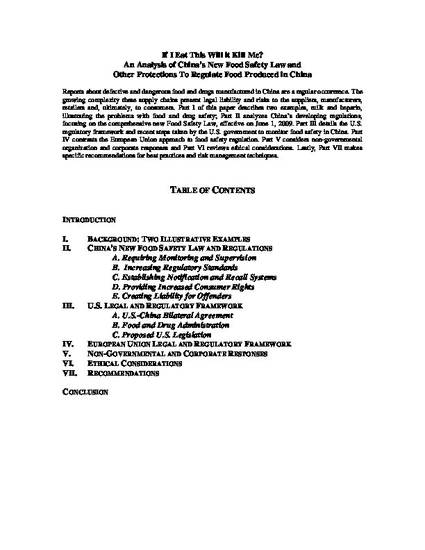 Unpublished Paper
If I Eat This Will it Kill Me? An Analysis of China's New Food Safety Law and Other Protections to Regulate Food Produced in China
ExpressO (2010)
Abstract
Reports about defective and dangerous food and drugs manufactured in China are a regular occurrence. The growing complexity these supply chains present legal liability and risks to the suppliers, manufacturers, retailers and, ultimately, to consumers. Part I of this paper describes two examples, milk and heparin, illustrating the problems with food and drug safety; Part II analyzes China's developing regulations, focusing on the comprehensive new Food Safety Law, effective on June 1, 2009. Part III details the U.S. regulatory framework and recent steps taken by the U.S. government to monitor food safety in China. Part IV contrasts the European Union approach to food safety regulation. Part V considers non-governmental organization and corporate responses and Part VI reviews ethical considerations. Lastly, Part VII makes specific recommendations for best practices and risk management techniques.
Publication Date
January 25, 2010
Citation Information
Marisa Anne Pagnattaro and Ellen Peirce. "If I Eat This Will it Kill Me? An Analysis of China's New Food Safety Law and Other Protections to Regulate Food Produced in China"
ExpressO
(2010)
Available at: http://works.bepress.com/marisa_pagnattaro/3/