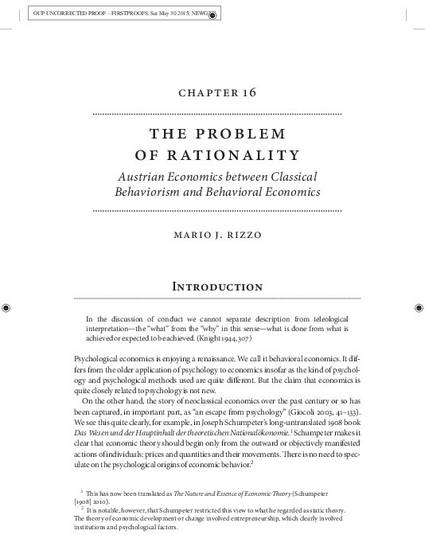 Contribution to Book
The Problem of Rationality: Austrian Economics between Classical Behaviorism and Behavioral Economics (uncorrected proof)
Oxford Handbook of Austrian Economics (forthcoming) (2015)
Abstract
In Part One we establish the rationale and substance of the Robbinsian middle ground – the psychical or mind-dependent character of economics. To accomplish this we explore three post-Wieserian frameworks for Austrian economics: (1) the phenomenological social science of Alfred Schutz; (2) the structure of mind analyzed by Hayek in The Sensory Order; and (3) the later Wittgenstein's logical analysis of thought. While there are no doubt differences among these approaches we find that they are broadly consistent way of establishing the essential mind-dependency of economics. In Part Two we directly examine the basic issues involved in the characterization of human behavior as rational or irrational. Most important in this effort is the ascertainment of the meaning individuals express in their behavior. We then go on to examine the roles played by criteria of rationality in logic, belief and preferences.
Editor
Peter J. Boettke and Christopher J. Coyne
Publisher
Oxford University Press
Citation Information
Mario J Rizzo. "The Problem of Rationality: Austrian Economics between Classical Behaviorism and Behavioral Economics (uncorrected proof)"
Oxford Handbook of Austrian Economics (forthcoming)
(2015)
Available at: http://works.bepress.com/mario_rizzo/32/