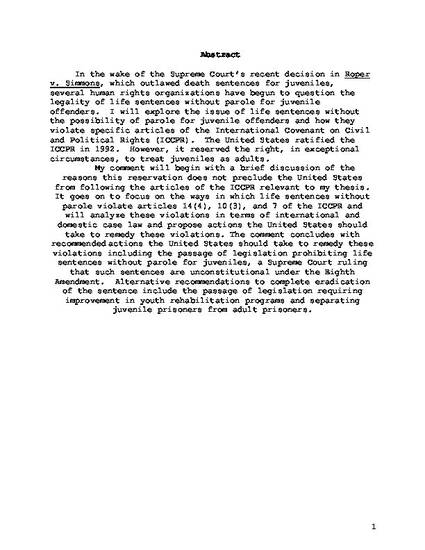 Unpublished Paper
"Taking Lives: How the United States has Violated the International Covenant of Civil and Political Rights by Sentencing Juveniles to Life without Parole"
ExpressO (2009)
Abstract
In the wake of the Supreme Court's recent decision in Roper v. Simmons, which outlawed death sentences for juveniles, several human rights organizations have begun to question the legality of life sentences without parole for juvenile offenders. I will explore the issue of life sentences without the possibility of parole for juvenile offenders and how they violate specific articles of the International Covenant on Civil and Political Rights (ICCPR). The United States ratified the ICCPR in 1992. However, it reserved the right, in exceptional circumstances, to treat juveniles as adults.
My comment will begin with a brief discussion of the reasons this reservation does not preclude the United States from following the articles of the ICCPR relevant to my thesis. It goes on to focus on the ways in which life sentences without parole violate articles 14(4), 10(3), and 7 of the ICCPR and will analyze these violations in terms of international and domestic case law and propose actions the United States should take to remedy these violations. The comment concludes with recommended actions the United States should take to remedy these violations including the passage of legislation prohibiting life sentences without parole for juveniles, a Supreme Court ruling that such sentences are unconstitutional under the Eighth Amendment. Alternative recommendations to complete eradication of the sentence include the passage of legislation requiring improvement in youth rehabilitation programs and separating juvenile prisoners from adult prisoner
Keywords
juvenile,
sentencing,
life without parole,
The International Convention on the Rights of the Child
Publication Date
June 3, 2009
Citation Information
Marina A Magnuson. ""Taking Lives: How the United States has Violated the International Covenant of Civil and Political Rights by Sentencing Juveniles to Life without Parole""
ExpressO
(2009)
Available at: http://works.bepress.com/marina_magnuson/1/