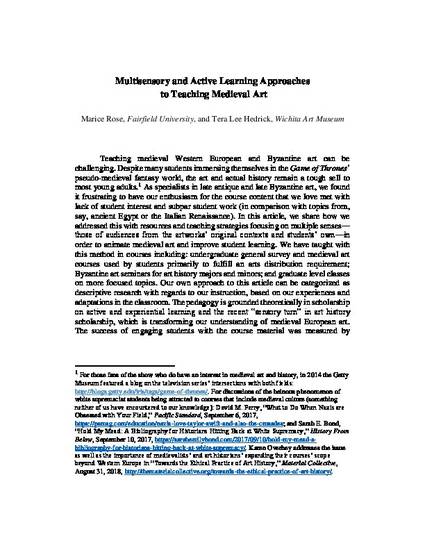 Article
Multisensory and Active Learning Approaches to Teaching Medieval Art
Art History Pedagogy & Practice
Abstract
In this article, two professors share methods and examples of active learning in order to teach Western European and Byzantine medieval art through a multisensory lens. The course content and pedagogy are situated in the "sensory turn," a conceptual and methodological approach that began in anthropology and has transformed medieval art historical scholarship in recent years. The discipline of art history has traditionally focused on the visual impact of objects and monuments, but the sensory turn has prompted art historians and architectural historians to investigate how art objects and monuments engage all five senses, transforming the "period eye" into the broader "period sensorium." Research in experiential learning demonstrates that the object-based activities that involve the senses, including teaching outside the classroom and hands-on art making projects, are pedagogically appropriate, and students demonstrated success in learning the material, as well as increased engagement. The paper gives practical suggestions for readings and resources, such as local or campus library archives for the topic of medieval manuscripts, and local re-enactors for dress and applied arts. The methods can be used within general art history survey classes as well as dedicated medieval art courses.
Creative Commons License
Creative Commons Attribution-Noncommercial 4.0
Citation Information
Marice Rose and Tera Lee Hedrick. "Multisensory and Active Learning Approaches to Teaching Medieval Art"
Available at: http://works.bepress.com/marice_rose/20/