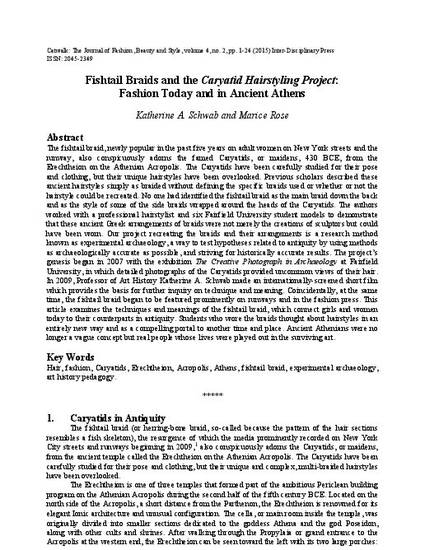 Article
Fishtail Braids and the Caryatid Hairstyling Project: Fashion Today and in Ancient Athens
Catwalk: The Journal of Fashion, Beauty, and Style
Article Version
Publisher's PDF
Publication Date
10-1-2015
Abstract
The fishtail braid, newly popular in the past five years on adult women on New York streets and the runway, also conspicuously adorns the famed Caryatids, or maidens, 430 BCE, from the Erechtheion on the Athenian Acropolis. The Caryatids have been carefully studied for their pose and clothing, but their unique hairstyles have been overlooked. Previous scholars described these ancient hairstyles simply as braided without defining the specific braids used or whether or not the hairstyle could be recreated. No one had identified the fishtail braid as the main braid down the back and as the style of some of the side braids wrapped around the heads of the Caryatids. The authors worked with a professional hairstylist and six Fairfield University student models to demonstrate that these ancient Greek arrangements of braids were not merely the creations of sculptors but could have been worn. Our project recreating the braids and their arrangements is a research method known as experimental archaeology, a way to test hypotheses related to antiquity by using methods as archaeologically accurate as possible, and striving for historically accurate results. The project's genesis began in 2007 with the exhibition The Creative Photograph in Archaeology at Fairfield University, in which detailed photographs of the Caryatids provided uncommon views of their hair. In 2009, Professor of Art History Katherine A. Schwab made an internationally-screened short film which provides the basis for further inquiry on technique and meaning. Coincidentally, at the same time, the fishtail braid began to be featured prominently on runways and in the fashion press. This article examines the techniques and meanings of the fishtail braid, which connect girls and women today to their counterparts in antiquity. Students who wore the braids thought about hairstyles in an entirely new way and as a compelling portal to another time and place. Ancient Athenians were no longer a vague concept but real people whose lives were played out in the surviving art.
Published Citation
Katherine A. Schwab and Marice Rose, "Fishtail Braids and the Caryatid Hairstyling Project: Fashion Today and in Ancient Athens," Catwalk: The Journal of Fashion, Beauty, and Style 4(2), (Fall 2015), 1-24.
Citation Information
Katherine Schwab and Marice Rose. "Fishtail Braids and the Caryatid Hairstyling Project: Fashion Today and in Ancient Athens"
Catwalk: The Journal of Fashion, Beauty, and Style
Vol. 4 Iss. 2 (2015)
Available at: http://works.bepress.com/marice_rose/15/