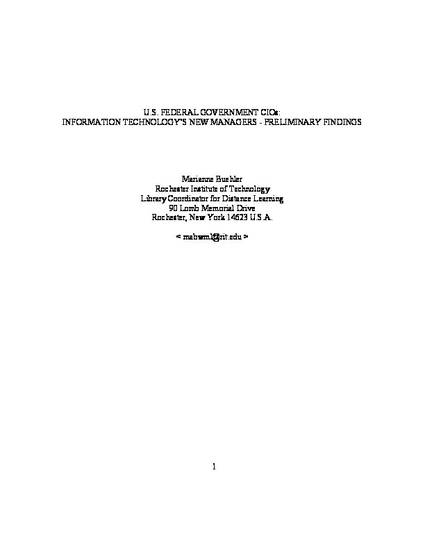 Article
U.S. federal government CIOs: information technology's new managers--preliminary findings
Journal of Government Information
Abstract
The Clinger-Cohen Information Technology Management Reform Act of 1996 (Clinger-Cohen Act) has changed the dynamics of how federal agencies view and manage their information technology. The mandated provision for Chief Information Officers (CIOs) is to act as information change agents and technology "watchdogs" for their agency. To observe how government is reacting to employing CIOs, field studies were conducted by e-mail with eight agencies to discover the successes and the challenges of this new information initiative. Four of the agencies contacted were mandated by the Clinger-Cohen Act and four were non-mandated. The results of this study depict varying levels of agency compliance and commitment to the Clinger-Cohen Act in regards to the operative nature of the position.
Publication Date
1-1-2000
Department, Program, or Center
The Wallace Center
Citation Information
Marianne Buehler. "U.S. federal government CIOs: information technology's new managers--preliminary findings"
Journal of Government Information
Vol. 27 (2000)
Available at: http://works.bepress.com/marianne_buehler/29/