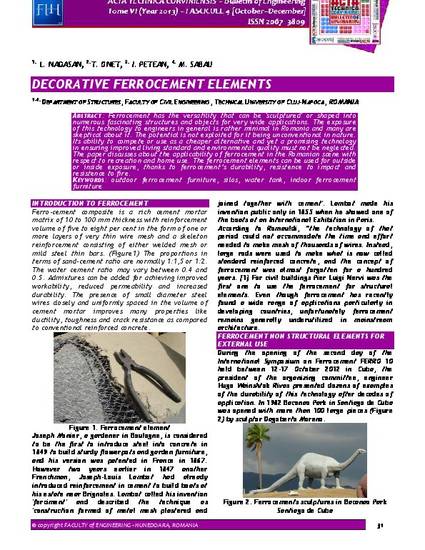 Article
Decorative ferrocement elements
Acta Technica Corvininesis - Bulletin of Engineering (2013)
Abstract
Ferrocement has the versatility that can be 'sculptured' or shaped into numerous fascinating structures and objects for very wide applications. The exposure of this technology to engineers in general is rather minimal in Romania and many are skeptical about it. The potential is not exploited for it being unconventional in nature. Its ability to compete or use as a cheaper alternative and yet a promising technology in ensuring improved living standard and environmental quality must not be neglected. The paper discusses about the applicability of ferrocement in the Romanian scene with respect to recreation and home use. The ferrocement elements can be used for outside or inside exposure, thanks to ferrocement's durability, resistence to impact and resistence to fire.
Keywords
indoor ferrocement furniture,
outdoor ferrocement furniture,
silos,
water tank
Publication Date
October, 2013
DOI
10.6084/m9.figshare.3482996
Citation Information
Letitia Nadasan, Traian Onet, Ana Ioana Petean and Marian Sabau. "Decorative ferrocement elements"
Acta Technica Corvininesis - Bulletin of Engineering
Vol. 6 Iss. 4 (2013) p. 31 - 34
Available at: http://works.bepress.com/marian_sabau/7/