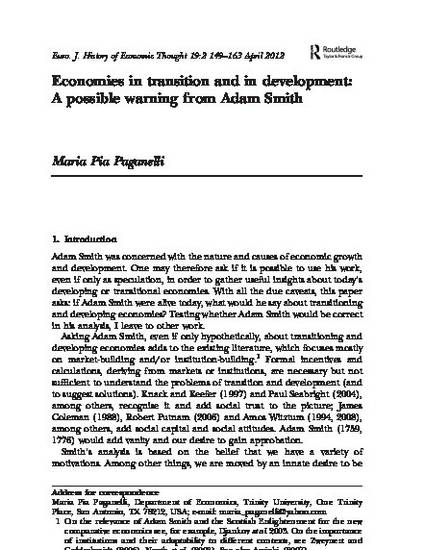 Article
Economies in Transition and in Development: A Possible Warning from Adam Smith
The European Journal of the History of Economic Thought
Publication Date
4-1-2012
Abstract
Adam Smith was concerned with the nature and causes of economic growth and development. One may therefore ask if it is possible to use his work, even if only as speculation, in order to gather useful insights about today's developing or transitional economies. With all the due caveats, this paper asks: if Adam Smith were alive today, what would he say about transitioning and developing economies? Testing whether Adam Smith would be correct in his analysis, I leave to other work.
Document Object Identifier (DOI)
10.1080/09672567.2010.499470
Citation Information
Paganelli, M. P. (2012). Economies in Transition and in Development: A Possible Warning from Adam Smith.
The European Journal of the History of Economic Thought
, 19, 149-163. doi: 10.1080/09672567.2010.499470