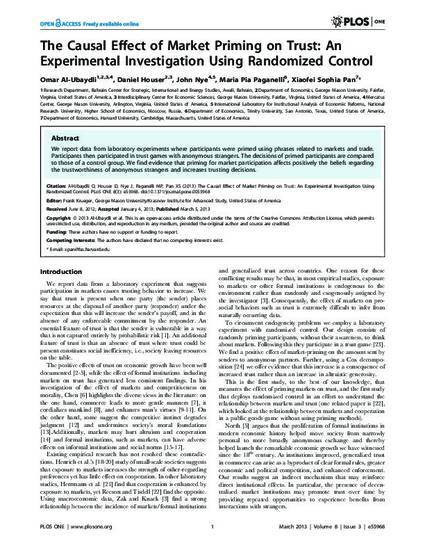 Article
The Causal Effect of Market Priming on Trust: An Experimental Investigation Using Randomized Control
PLoS ONE
Publication Date
3-5-2013
Abstract
We report data from laboratory experiments where participants were primed using phrases related to markets and trade. Participants then participated in trust games with anonymous strangers. The decisions of primed participants are compared to those of a control group. We find evidence that priming for market participation affects positively the beliefs regarding the trustworthiness of anonymous strangers and increases trusting decisions.
Document Object Identifier (DOI)
10.1371/journal.pone.0055968
Citation Information
Al-Ubaydli, O., Houser, D., Nye, J., Paganelli, M. P., & Pan, X. S. (2013). The Causal Effect of Market Priming on Trust: An Experimental Investigation Using Randomized Control.
PLoS ONE
8(3), e55968. doi:10.1371/journal.pone.0055968