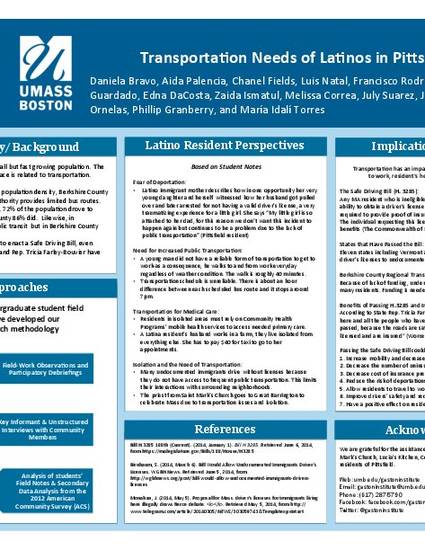 Presentation
Transportation Needs of Latinos in Pittsfield, MA
Gastón Institute Publications
Document Type
Presentation
Publication Date
1-1-2014
Abstract
Latinos in Pittsfield are a small but fast growing population. The most significant issue they face is related to transportation. Because the area's lack of population density, Berkshire County Regional Transportation Authority provides limited bus routes. In Massachusetts in 2012, 72% of the population drove to work, while in Berkshire County 86% did. Likewise, in Massachusetts, 9% used public transit but in Berkshire County only 2% did. Massachusetts has failed to enact a Safe Driving Bill, even though Sen. Patricia Jehlen and Rep. Tricia Farley-Bouvier have sponsored H.3285.
Community Engaged/Serving
Yes, this is community-engaged.
Creative Commons License
Creative Commons Attribution-Noncommercial-No Derivative Works 4.0
Citation Information
Daniela Bravo, Aida Palencia, Chanel Fields, Luis Natal, et al.. "Transportation Needs of Latinos in Pittsfield, MA" (2014)
Available at: http://works.bepress.com/maria_idali_torres/5/