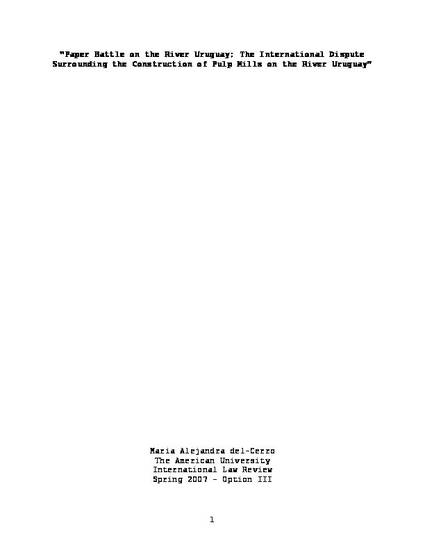 Unpublished Paper
"Paper Battle on the River Uruguay; The International Dispute Surrounding the Construction of Pulp Mills on the River Uruguay"
ExpressO (2007)
Abstract
Abstract This Comment explores the legality of the Uruguayan government's decision to approve the construction of two pulp mill plants on the River Uruguay, and examines the related litigation currently pending before the International Court of Justice, "ICJ". A review of international watercourse law assists in deciphering the parties' substantive and procedural obligations under the 1975 Statute of the River Uruguay. The comment argues that Uruguay has fulfilled these obligations, while Argentina has not. The piece recommends that the ICJ resolve the dispute in favor of Uruguay, and adopt a more precise standard for determining when a state has complied with the no-harm principle. A more precise standard will allow riparian nations to capitalize on their rights to use international watercourses without facing prolonged legal disputes with neighboring nations.
Keywords
Water Law,
International Law,
International Court of Justice,
Latin America,
Treaty interpretation,
natural resources,
environmental law
Publication Date
April, 2007
Citation Information
Maria A del-Cerro. ""Paper Battle on the River Uruguay; The International Dispute Surrounding the Construction of Pulp Mills on the River Uruguay""
ExpressO
(2007)
Available at: http://works.bepress.com/maria_del_cerro/1/