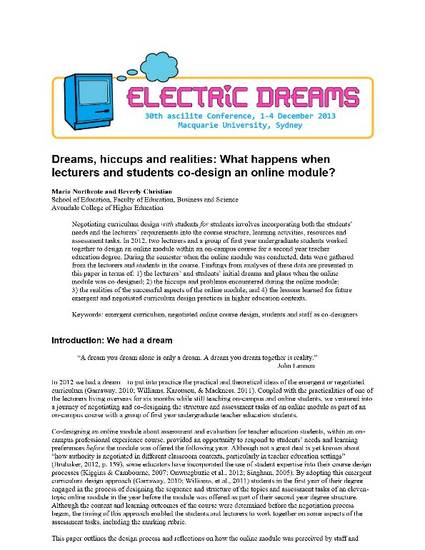 Article
Dreams, Hiccups and Realities: What Happens When Lecturers and Students Co-Design an Online Module?
Education Conference Papers
Document Type
Conference Proceeding
Publication Date
1-1-2013
Proceedings
30th Australasian Society for Computers in Learning in Tertiary Education (ascilite) Conference
Staff Classification
Permanent
Peer Review
Before publication
Field of Education
07 Education
Abstract
Negotiating curriculum design with students for students involves incorporating both the students' needs and the lecturers' requirements into the course structure, learning activities, resources and assessment tasks. In 2012, two lecturers and a group of first year undergraduate students worked together to design an online module within an on-campus course for a second year teacher education degree. During the semester when the online module was conducted, data were gathered from the lecturers and students in the course. Findings from analyses of these data are presented in this paper in terms of: 1) the lecturers' and students' initial dreams and plans when the online module was co-designed; 2) the hiccups and problems encountered during the online module; 3) the realities of the successful aspects of the online module; and 4) the lessons learned for future emergent and negotiated curriculum design practices in higher education contexts.
Citation Information
Northcote, M., & Christian, B. (2013). Dreams, hiccups and realities: What happens when lecturers and students co-design an online module? In H. Carter, M. Gosper and J. Hedberg (Eds.), Electric Dreams. Paper presented at the 30th Australasian Society for Computers in Learning in Tertiary Education, Macquarie University, Sydney, 1-4 December (pp. 642-646). Retrieved from http://www.ascilite.org/conferences/sydney13/about/proceedings.pdf