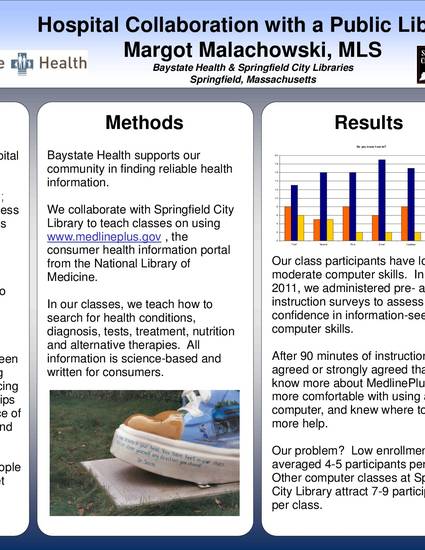 Presentation
Hospital Collaboration with a Public Library [poster]
National Health Promotion Summit (2012)
Abstract
Baystate Health is a teaching hospital located in Springfield, MA. Our city's population is 52% White; 22% Black; 39% Hispanic (regardless of race). Nearly 24% of our families speak Spanish at home. Poverty rates are 27%, as compared with 10% statewide. These populations are less likely to use the internet to find health information. The Dept of Health & Human Services draws a correlation between internet-based information seeking and the status of people experiencing disease, finding inverse relationships between internet use and incidence of asthma, diabetes, heart disease and other conditions. Libraries play a role in Healthy People 2020 by maintaining public internet access and teaching computer literacy classes.
Keywords
libraries,
health literacy,
communities
Publication Date
Spring April 1, 2012
Citation Information
Malachowski M. Hospital Collaboration with a Public Library. National Health Promotion Summit. Washington, DC. Apr 10-Apr 11, 2012.