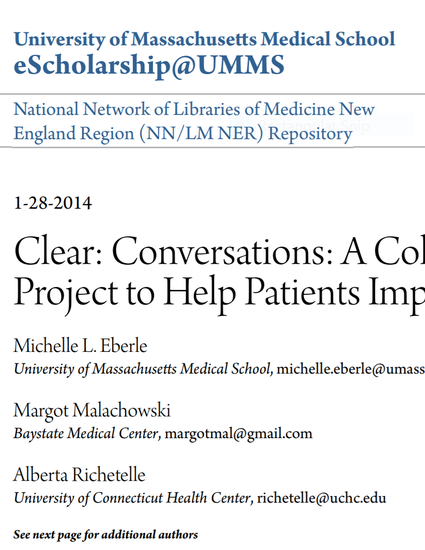 Article
Clear: Conversations: A Collaborative Regional Project to Help Patients Improve their Health Visits
National Network of Libraries of Medicine New England Region (NNLM NER) Repository
Document Type
Project Summary
Project Name
Clear: Conversations: A Collaborative Regional Project to Help Patients Improve their Health Visits
Abstract
Objective: The National Network of Libraries of Medicine, New England Region's Clear: Conversations project aimed to teach health literacy skills to help patients communicate better with their health care providers including how to: ask for simple language and slow down the provider, use teach-back, bring medications and supplements for a brown bag review, and get need-to-know information. Methods: Five organizations were awarded with Clear: Conversations materials that were adapted from a program created by Health Literacy Missouri. A highlight of the workshop was a role play between a health care provider and patient. Awardees were required to offer the workshop at least once, meet regularly via teleconference to get support in planning their programs and to learn from each other's experiences, and provide a brief post-project report. Awardees also created and used pre- and post-workshop tests. Results: The program was offered at a variety of venues including a Healthy Start initiative, a senior center, a patient and family learning center, and a family life education center. A total of 109 individuals participated in the workshops. Pre- and post-workshop tests showed participants felt more comfortable to ask questions, slow down their doctor, and repeat back what the doctor said to make sure they understood. Conclusions : The NN/LM NER's Clear: Conversations project was offered by a cross-disciplinary group of health information providers. It empowered participants with practical health literacy skills for better health care visits. Implications: The Clear: Conversations materials created by Health Literacy Missouri present an opportunity for librarians and other health information providers to empower patients with useful and essential health literacy skills.
Keywords
Health Literacy,
Clear Conversations,
Health Literacy Missouri
Rights and Permissions
Citation: Clear: Conversations: A Collaborative Regional Project to Help Patients Improve their Health Visits. National Network of Libraries of Medicine, New England Region, Health Literacy Community of Interest, January 2014.
Creative Commons License
Creative Commons Attribution-Noncommercial-Share Alike 3.0
Citation Information
Michelle L. Eberle, Margot Malachowski, Alberta Richetelle, Monina Lahoz, et al.. "Clear: Conversations: A Collaborative Regional Project to Help Patients Improve their Health Visits" (2014)
Available at: http://works.bepress.com/margot_malachowski/21/