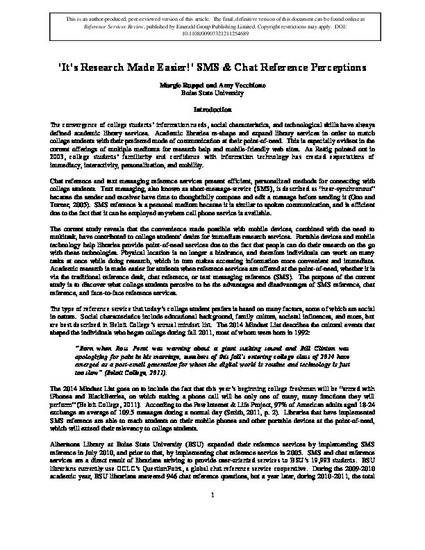 Article
'It's Research Made Easier!': SMS and Chat Reference Perceptions
Reference Services Review
Publication Date
7-1-2012
DOI
http://dx.doi.org/10.1108/00907321211254689
Abstract
The convergence of college students' information needs, social characteristics, and technological skills have always defined academic library services. Academic libraries re-shape and expand library services in order to match college students with their preferred mode of communication at their point-of-need. This is especially evident in the current offerings of multiple mediums for research help and mobile-friendly web sites. As Rettig pointed out in 2003, college students' familiarity and confidence with information technology has created expectations of immediacy, interactivity, personalization, and mobility.
Chat reference and text messaging reference services present efficient, personalized methods for connecting with college students. Text messaging, also known as short-message-service (SMS), is described as "near-synchronous" because the sender and receiver have time to thoughtfully compose and edit a message before sending it (Guo and Turner, 2005). SMS reference is a personal medium because it is similar to spoken communication, and is efficient due to the fact that it can be employed anywhere cell phone service is available.
Copyright Statement
This is an author-produced, peer-reviewed version of this article. The final, definitive version of this document can be found online at Reference Services Review, published by Emerald Group Publishing Limited. Copyright restrictions may apply. DOI: 10.1108/00907321211254689
Citation Information
Margie Ruppel and Amy Vecchione. "'It's Research Made Easier!': SMS and Chat Reference Perceptions"
Reference Services Review
(2012)
Available at: http://works.bepress.com/margieruppel/34/