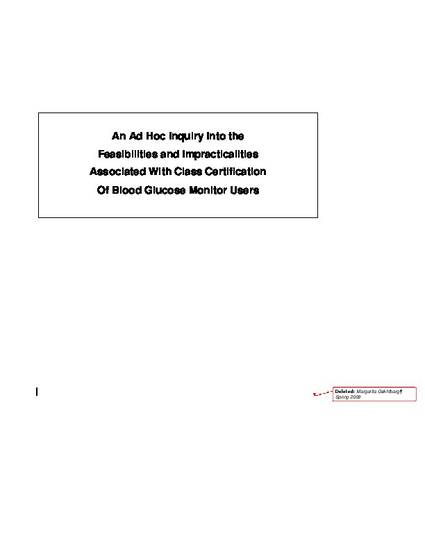 Article
An Ad Hoc Inquiry Into the Feasibilities and Impracticalities Associated With Class Certification Of Blood Glucose Monitor Users
Bepress.com (2010)
Abstract
ABSTRACT Recent developments in pre-emption law have outlined the requirements for bringing an action against a manufacturer of an FDA approved medical device. Specifically, devices that undergo the 510(k) approval process remain a viable target for state tort claims. In February, 2008 the Supreme Court handed down a crucial decision in Riegel v. Medtronic, Inc., involving medical devices regulated by the FDA. In Riegel, the Court reaffirmed the distinction between the exhaustive "federal requirements" of the PMA process and the looser scrutiny of 510(k) notification. This means that 510(k) devices—which vastly outnumber PMA devices—remain fully exposed to mass-tort liability. Medical devices are frequently the subject of class action cases, most of which are brought in federal court. The Supreme Court has handed down several decisions that make certifying a product liability class more difficult. Federal and state courts tend to tread lightly before certifying a class in a medical device product liability suit, noting the likelihood of attracting a great deal of publicity as well as claimants that may or may not have been able to pursue a traditional tort cause of action on their own. This article aims to examine the feasibility or bringing a class action case against the manufacturers of Blood Glucose Monitors, 510(k) devices, in light of the Riegel decision and class certification obstacles imposed by federal courts.
Citation Information
Margarita Rubin. "An Ad Hoc Inquiry Into the Feasibilities and Impracticalities Associated With Class Certification Of Blood Glucose Monitor Users"
Bepress.com
(2010)
Available at: http://works.bepress.com/margarita_rubin/2/