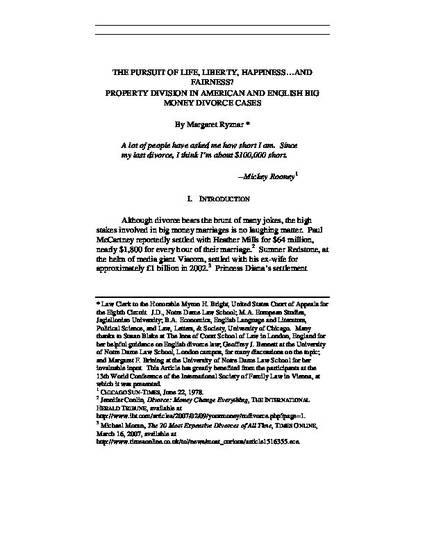 Unpublished Paper
The Pursuit of Life, Liberty, Happiness…and Fairness? Property Division in American and English Big Money Divorce Cases
ExpressO (2009)
Abstract
Eyebrows have recently arched not only at the high sums involved in big money divorce cases, but also at the amount of ink spilled on this relatively small subset of divorce cases. Yet, it is precisely in big money cases that fairness acquires substantial haziness. Is it fair for a high-wage earner to pay an ex-spouse half of his future profits? Or, would it be fairer for the ex-spouse to be awarded less than half, but still receive millions of dollars? Such questions are particularly acute in short marriages or when one spouse is at fault for the divorce. Courts in both England and the United States have been encountering these issues with increasing frequency and differing results. The majority of American courts have employed the principle of equitable distribution, resulting in a disproportionate property division between spouses, particularly when the marital estate grew because of one spouse's extraordinary efforts. England, on the other hand, recently implemented a yardstick of equality that achieves nearly equal property division between spouses, representing a major shift in English case law and a doctrinal break from American law. This Article examines these changes in the comparative context, underscoring the consequences of each country's interpretation of fairness in post-divorce property division.
Keywords
divorce,
family law,
comparative law
Publication Date
January 9, 2009
Citation Information
Margaret Ryznar. "The Pursuit of Life, Liberty, Happiness…and Fairness? Property Division in American and English Big Money Divorce Cases"
ExpressO
(2009)
Available at: http://works.bepress.com/margaret_ryznar/4/