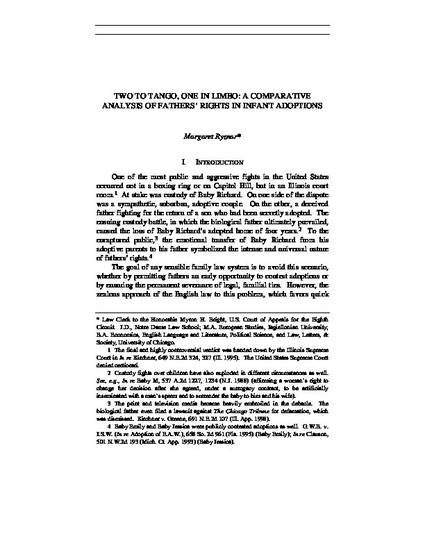 Unpublished Paper
Two to Tango, One in Limbo: A Comparative Analysis of Fathers' Rights in Infant Adoptions
ExpressO (2008)
Abstract
Many American and English courts today permit infant adoptions without notifying or seeking the consent of biological fathers. However, children's best interests would be better served by recognizing their father-child relationship, instead of institutionally denying it. Any legal approach that ignores the biological father devalues the importance of a child's placement in the paternal family unit, the significance of the medical history on the father's side, the emotional link between a father and his child, and the father's legal right to his own child. This comparative law Article therefore argues, using the American and English legal systems as illustrative examples, that both the father and the child should have their father-child relationship protected, which must be properly severed and waived by informed consent before a child is placed for adoption.
Keywords
adoption,
fathers' rights,
children's best interests standard
Publication Date
August 23, 2008
Citation Information
Margaret Ryznar. "Two to Tango, One in Limbo: A Comparative Analysis of Fathers' Rights in Infant Adoptions"
ExpressO
(2008)
Available at: http://works.bepress.com/margaret_ryznar/3/