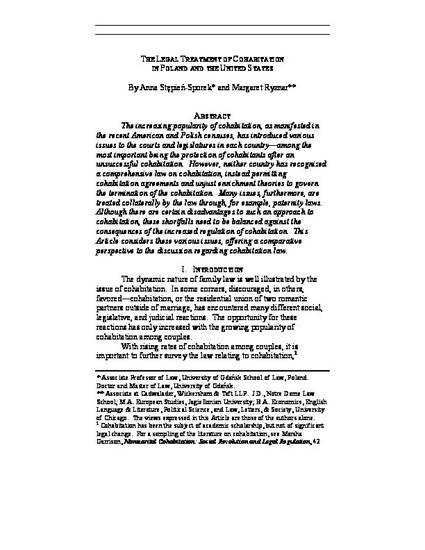 Article
The Legal Treatment of Cohabitation in Poland and the United States
Forthcoming (2010)
Abstract
The increasing popularity of cohabitation, as manifested in the recent American and Polish censuses, has introduced various issues to the courts and legislatures in each country—among the most important being the protection of cohabitants after an unsuccessful cohabitation. However, neither country has recognized a comprehensive law on cohabitation, instead permitting cohabitation agreements and unjust enrichment theories to govern the termination of the cohabitation. Many issues, furthermore, are treated collaterally by the law through, for example, paternity laws. Although there are certain disadvantages to such an approach to cohabitation, these shortfalls need to be balanced against the consequences of the increased regulation of cohabitation. This Article considers these various issues, offering a comparative perspective to the discussion regarding cohabitation law.
Keywords
Domestic relations,
family law,
comparative law,
cohabitation,
marriage,
common law marriage,
Poland
Citation Information
Margaret Ryznar and Anna Stępień-Sporek. "The Legal Treatment of Cohabitation in Poland and the United States"
Forthcoming
(2010)
Available at: http://works.bepress.com/margaret_ryznar/10/