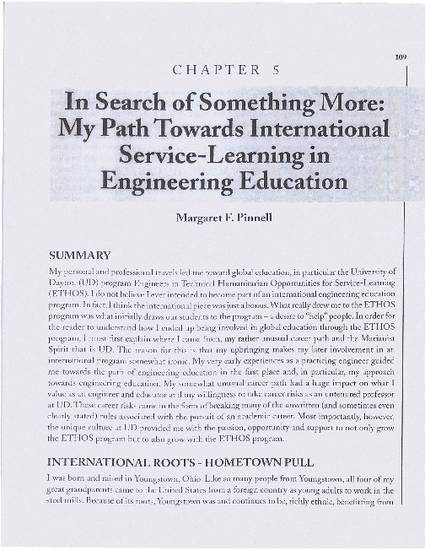 Contribution to Book
In Search of Something More: My Path Towards International Service-Learning in Engineering Education
What is Global Engineering Education For? The Making of International Educators, Part I & II
Document Type
Book Chapter
Publication Date
1-1-2010
Abstract
My personal and professional travels led me toward global education, in particular the University of Dayton (UD) program Engineers in Technical Humanitarian Opportunities for Service-Learning (ETHOS). I do not believe I ever intended to become part of an international engineering education program. In fact, I think the international piece was just a bonus. What really drew me to the ETHOS program was what initially draws our students to the program - a desire to "help" people. In order for the reader to understand how I ended up being involved in global education through the ETHOS program, I must first explain where I came from, my rather unusual career path and the Marianist Spirit that is UD. The reason for this is that my upbringing makes my later involvement in an international program somewhat iron ic. My very early experiences as a practicing engineer guided me towards the path of enginee ring education in the first place and, in particular, my approach towards engineering education. My somewhat unusual career path had a huge impact on what I value as an engineer and educator and my willingness to take career risks as an untenured professor at UD. These career risks came in the form of breaking many of the unwritten (and sometimes even clearly stated) rules associated with the pursuit of an academic career. Most importantly, however, the unique culture at UD provided me with the passion, opportunity and support to not only grow the ETHOS program but to also grow with the ETHOS program.
Document Version
Published Version
Copyright
Copyright © 2010, Morgan & Claypool Publishers
Publisher
Morgan & Claypool Publishers
Place of Publication
Williston, VT
Citation Information
Margaret Pinnell. "In Search of Something More: My Path Towards International Service-Learning in Engineering Education"
What is Global Engineering Education For? The Making of International Educators, Part I & II
(2010)
Available at: http://works.bepress.com/margaret_pinnell/17/