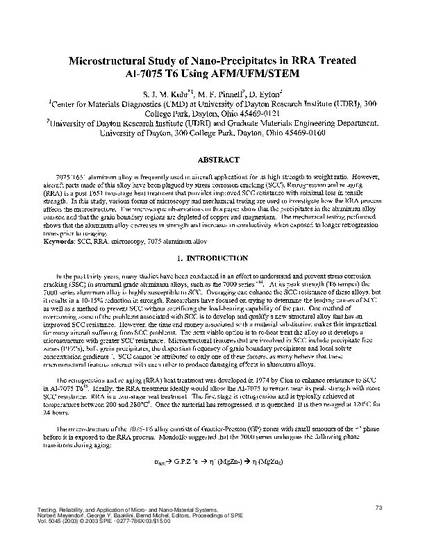 Other
Microstructural Study of Nanoprecipitates in RRA Treated Al-7075 T6 Using AFM/UFM/STEM
Testing, Reliability, and Application of Micro- and Nano-Material Systems
Document Type
Conference Paper
Publication Date
3-1-2003
Abstract
7075 T651 aluminum alloy is frequently used in aircraft applications for its high strength to weight ratio. However, aircraft parts made of this alloy have been plagued by stress corrosion cracking (SCC). Retrogression and re-aging (RRA) is a post T651 two-stage heat treatment that provides improved SCC resistance with minimal loss in tensile strength. In this study, various forms of microscopy and mechanical testing are used to investigate how the RRA process affects the microstructure. The microscopic observations in this paper show that the precipitates in the aluminum alloy coarsen and that the grain boundary regions are depleted of copper and magnesium. The mechanical testing performed shows that the aluminum alloy decreases in strength and increases in conductivity when exposed to longer retrogression times prior to re-aging.
Document Version
Published Version
Copyright
Copyright © 2003, International Society for Optical Engineering
Publisher
International Society for Optical Engineering
Place of Publication
San Diego, CA
Citation Information
Samuel J.M. Kuhr, Margaret Pinnell and Daniel Eylon. "Microstructural Study of Nanoprecipitates in RRA Treated Al-7075 T6 Using AFM/UFM/STEM"
Testing, Reliability, and Application of Micro- and Nano-Material Systems
Vol. 5045 (2003)
Available at: http://works.bepress.com/margaret_pinnell/14/