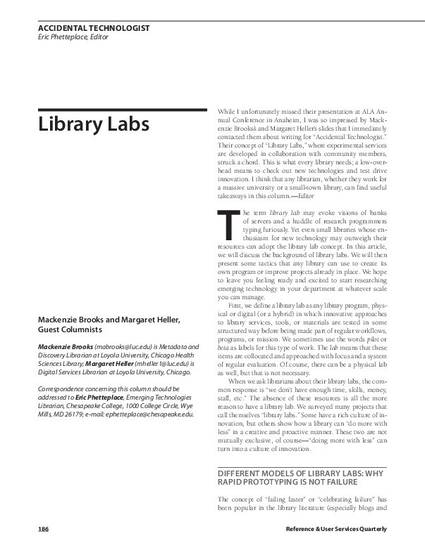 Article
Library Labs
Reference & User Services Quarterly
Publication Date
4-1-2013
Abstract
Libraries can experiment with innovative ideas through collaboration with members of their communities. Successful programs are discussed, with practical advice for starting similar programs.
Creative Commons License
Creative Commons Attribution-Noncommercial-No Derivative Works 3.0
Copyright Statement
(c) Margaret Heller, Mackenzie Brooks, Eric Phetteplace, 2013.
Citation Information
Phetteplace, Eric, Mackenzie Brooks, and Margaret Heller. "Library Labs." Reference & User Services Quarterly 52, no. 3 (March 1, 2013): 186–190.