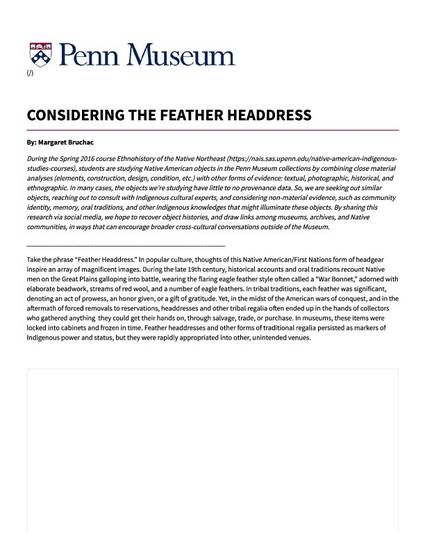 Article
Considering the Feather Headdress
Penn Museum Blog
Date of this Version
1-1-2016
Abstract
During the Spring 2016 course Ethnohistory of the Native Northeast, students are studying Native American objects in the Penn Museum collections by combining close material analyses (elements, construction, design, condition, etc.) with other forms of evidence: textual, photographic, historical, and ethnographic. In many cases, the objects we're studying have little to no provenance data. So, we are seeking out similar objects, reaching out to consult with Indigenous cultural experts, and considering non-material evidence, such as community identity, memory, oral traditions, and other Indigenous knowledges that might illuminate these objects. By sharing this research via social media, we hope to recover object histories, and draw links among museums, archives, and Native communities, in ways that can encourage broader cross-cultural conversations outside of the Museum.
Citation Information
Margaret Bruchac. "Considering the Feather Headdress"
Penn Museum Blog
(2016)
Available at: http://works.bepress.com/margaret-bruchac/9/