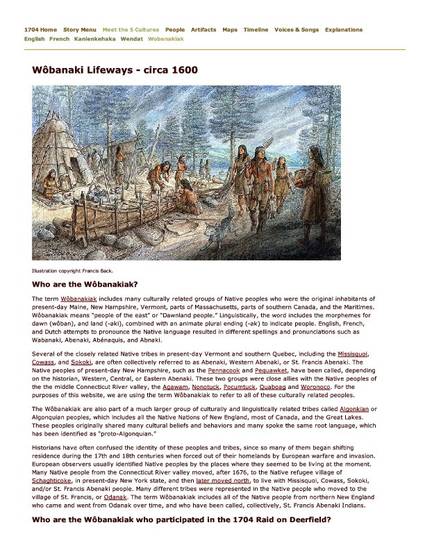 Other
Wôbanaki Lifeways - Circa 1600
Raid on Deerfield: The Many Stories of 1704
Date of this Version
1-1-2004
Abstract
The term Wôbanakiak includes many culturally related groups of Native peoples who were the original inhabitants of present-day Maine, New Hampshire, Vermont, parts of Massachusetts, parts of southern Canada, and the Maritimes. Wôbanakiak means "people of the east" or "Dawnland people." Linguistically, the word includes the morphemes for dawn (wôban), and land (-aki), combined with an animate plural ending (-ak) to indicate people. English, French, and Dutch attempts to pronounce the Native language resulted in different spellings and pronunciations such as Wabanaki, Abenaki, Abénaquis, and Abnaki.
Citation Information
Margaret Bruchac. "Wôbanaki Lifeways - Circa 1600"
Raid on Deerfield: The Many Stories of 1704
(2004)
Available at: http://works.bepress.com/margaret-bruchac/6/