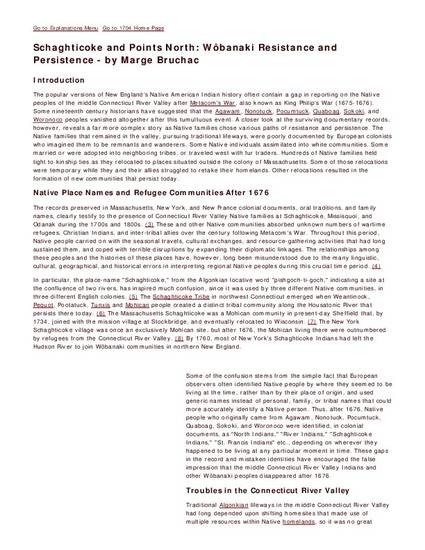 Other
Schaghticoke and Points North: Wôbanaki Resistance and Persistence
Raid on Deerfield: The Many Stories of 1704
Date of this Version
1-1-2005
Abstract
The popular versions of New England's Native American Indian history often contain a gap in reporting on the Native peoples of the middle Connecticut River Valley after Metacom's War, also known as King Philip's War (1675-1676). Some nineteenth century historians have suggested that the Agawam, Nonotuck, Pocumtuck, Quaboag, Sokoki, and Woronoco peoples vanished altogether after this tumultuous event. A closer look at the surviving documentary records, however, reveals a far more complex story as Native families chose various paths of resistance and persistence. The Native families that remained in the valley, pursuing traditional lifeways, were poorly documented by European colonists who imagined them to be remnants and wanderers. Some Native individuals assimilated into white communities. Some married or were adopted into neighboring tribes, or traveled west with fur traders. Hundreds of Native families held tight to kinship ties as they relocated to places situated outside the colony of Massachusetts. Some of those relocations were temporary while they and their allies struggled to retake their homelands. Other relocations resulted in the formation of new communities that persist today.
Citation Information
Margaret Bruchac. "Schaghticoke and Points North: Wôbanaki Resistance and Persistence"
Raid on Deerfield: The Many Stories of 1704
(2005)
Available at: http://works.bepress.com/margaret-bruchac/21/