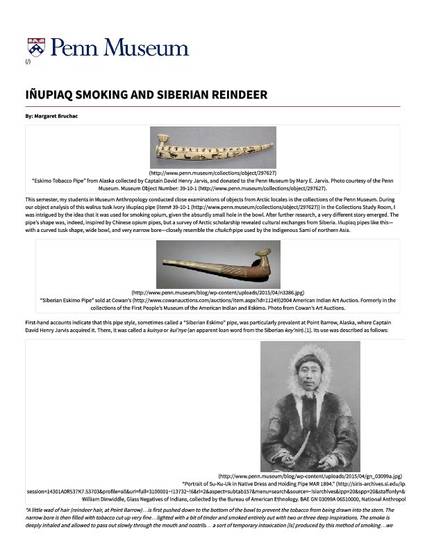 Article
Iñupiaq Smoking and Siberian Reindeer
Penn Museum Blog
Date of this Version
1-1-2015
Abstract
This semester, my students in Museum Anthropology conducted close examinations of objects from Arctic locales in the collections of the Penn Museum. During our object analysis of this walrus tusk ivory Iñupiaq pipe (item# 39-10-1) in the Collections Study Room, I was intrigued by the idea that it was used for smoking opium, given the absurdly small hole in the bowl. After further research, a very different story emerged. The pipe's shape was, indeed, inspired by Chinese opium pipes, but a survey of Arctic scholarship revealed cultural exchanges from Siberia. Iñupiaq pipes like this—with a curved tusk shape, wide bowl, and very narrow bore—closely resemble the chukch pipe used by the Indigenous Sami of northern Asia.
Citation Information
Margaret Bruchac. "Iñupiaq Smoking and Siberian Reindeer"
Penn Museum Blog
(2015)
Available at: http://works.bepress.com/margaret-bruchac/10/