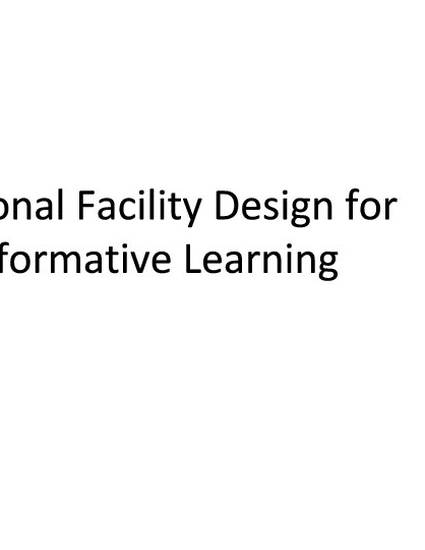 Presentation
Instructional Facility Design for Transformative Learning
SCELC: The Statewide California Electronic Library Consortium (2014)
Abstract
In early 2012 three librarians at Pepperdine University Libraries began creating a plan to remodel the library instruction classroom on the main campus in Malibu. This campus primarily serves about 3,500 private-school undergraduates in Business, Communication, Humanities, Natural Science, Religion, Social Science, and Fine Arts. The primary goal of redesigning the library classroom was to support the new active learning approaches that librarians were beginning to incorporate into their information literacy pedagogy. Another important goal was to provide students a collaborative study space for when the classroom is available as an open study area. The remodel completed in March 2014, and the new space is already helping librarians realize their pedagogical goals and enabling student collaboration during open study. This presentation covers the following: the barriers to active learning that the old lab presented; the research on active learning that informed the remodeling plan; and, the technology chosen to enable active learning in library instruction classes and during open study in the new lab.
Keywords
information literacy,
learning spaces
Publication Date
March 5, 2014
Citation Information
Paul V Stenis, Marc Vinyard and Mary Ann Naumann. "Instructional Facility Design for Transformative Learning"
SCELC: The Statewide California Electronic Library Consortium
(2014)
Available at: http://works.bepress.com/marcvinyard/1/