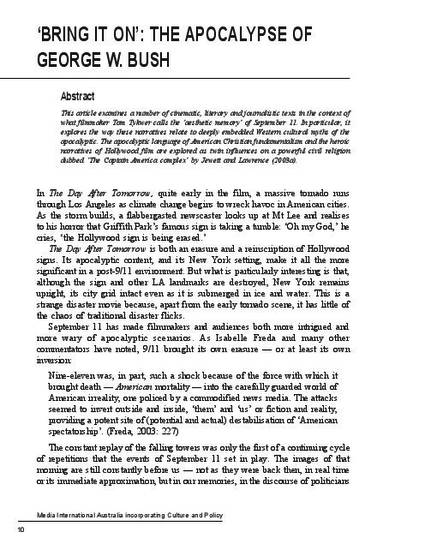 Article
Bring it on: the apocalypse of George W. Bush
Media International Australia (2004)
Abstract
This article examines a number of cinematic, literary and journalistic texts in the context of what film maker Tom Tykwer calls the "aesthetic memory" of September 11. In particular it explores the way these narratives relate to deeply embedded Western cultural myths of the apocalyptic. The apocalyptic language of American Christian fundamentalism and the heroic narratives of Hollywood film are explored as twin influences on a powerful civil religion dubbed by Jewett and Lawrence (2003) "The Captain America complex".
Citation Information
Marcus O'Donnell. "Bring it on: the apocalypse of George W. Bush"
Media International Australia
Iss. 113 (2004)
Available at: http://works.bepress.com/marcusodonnell/10/