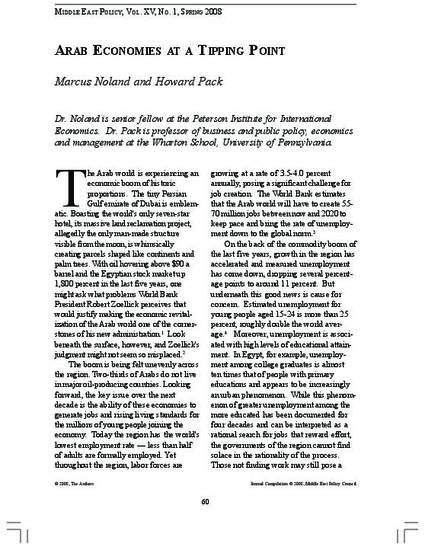 Article
Arab Economies at a Tipping Point
Middle East Policy (2008)
Abstract
The Arab world is experiencing an economic boom of historic proportions. The tiny Persian Gulf emirate of Dubai is emblematic. Boasting the world's only seven-star hotel, its massive land reclamation project, allegedly the only man-made structure visible from the moon, is whimsically creating parcels shaped like continents and palm trees. With oil hovering above $90 a barrel and the Egyptian stock market up 1,800 percent in the last five years, one might ask what problems World Bank President Robert Zoellick perceives that would justify making the economic revitalization of the Arab world one of the cornerstones of his new administration.1 Look beneath the surface, however, and Zoellick's judgment might not seem so misplaced.
Keywords
Arab region,
Arab world,
globalization
Publication Date
Spring 2008
Citation Information
Marcus Noland and Howard Pack. "Arab Economies at a Tipping Point"
Middle East Policy
Vol. XV Iss. 1 (2008)
Available at: http://works.bepress.com/marcus_noland/8/