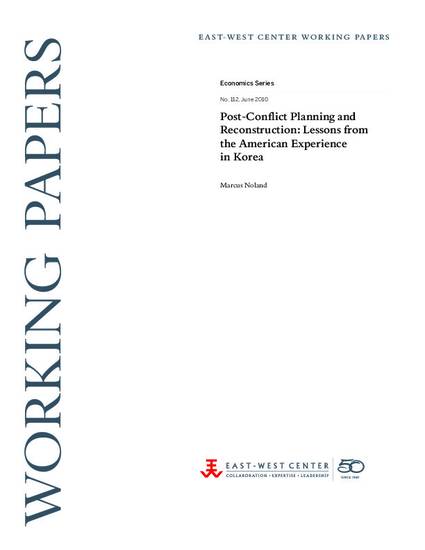 Unpublished Paper
Post-Conflict Planning and Reconstruction: Lessons from the American Experience in Korea
East-West Center Working Papers Economics Series (2010)
Abstract
The American experiences in Afghanistan and Iraq have motivated a re-examination of earlier experiences with post-conflict planning and reconstruction. This paper reviews the US experience in Korea following the Second World War and the Korean War; addresses the political economy of establishing institutions of governance in post-conflict situations; considers the issue of "portability": the extent to which the South Korean experience may reflect unique and irreproducible conditions; and then applies these ideas by comparing the South Korean experience to the contemporary case of Afghanistan. Some conclusions and policy recommendations are contained in the final section.
Keywords
Post-conflict,
reconstruction,
Korea
Publication Date
June, 2010
Citation Information
Marcus Noland. "Post-Conflict Planning and Reconstruction: Lessons from the American Experience in Korea"
East-West Center Working Papers Economics Series
(2010)
Available at: http://works.bepress.com/marcus_noland/34/