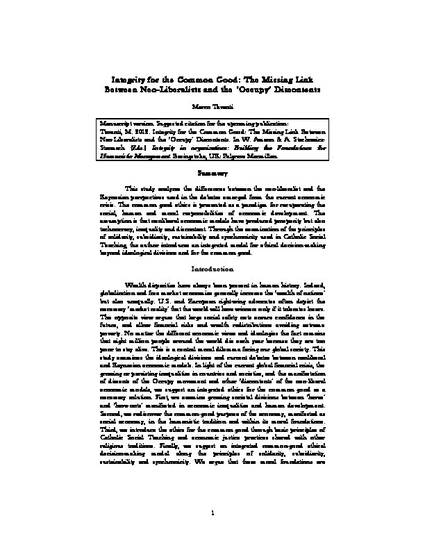 Contribution to Book
Integrity for the Common Good: The Missing Link Between Neo-Liberalists and the 'Occupy' Discontents
Integrity in organizations: Building the Foundations for Humanistic Management. (2012)
Abstract
This study analyzes the differences between the neoliberalist and the Keynesian perspectives used in the debates emerged from the current economic crisis. The common good ethics is presented as a paradigm for recuperating the social, human and moral responsibilities of economic development. The assumption is that neoliberal economic models have produced prosperity but also technocracy, inequality and discontent. Through the examination of the principles of solidarity, subsidiarity, sustainability and synchronicity used in Catholic Social Teaching, the author introduces an integrated model for ethical decision-making beyond ideological divisions and for the common good.
Keywords
Common good,
integrity,
ethics,
solidarity,
sustainability,
subsidiarity,
syncronicity
Editor
Wolfang, Amann & Agata, Stachowicz-Stanusch
Publisher
Palgrave Macmillan
Citation Information
Marco Tavanti. "Integrity for the Common Good: The Missing Link Between Neo-Liberalists and the 'Occupy' Discontents" Basingstoke, UK
Integrity in organizations: Building the Foundations for Humanistic Management.
(2012)
Available at: http://works.bepress.com/marcotavanti/36/