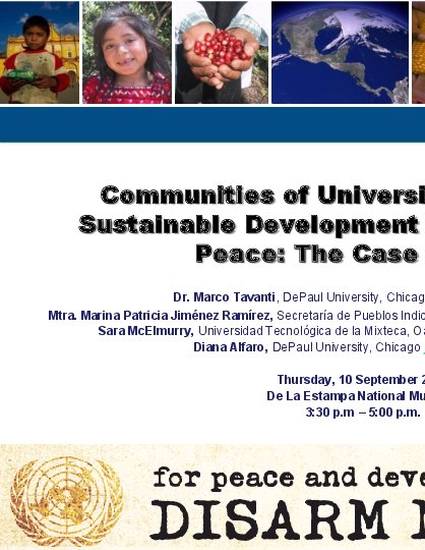 Presentation
Communities of Universities and NGOs for Sustainable Development and the Creation of Peace: The Case of Chiapas
United Nations, Department of Public Information, Nongovernmental orgnizations (UNDPI/NGO) (2009)
Abstract
Within the context of the United Nations's mission to promote peace, development and human rights, this presentation illustrated how Chiapas and the involvement of universities can promote dialogue, conflict resolution and systemic change. The case of DePaul University international engagement stimulated dialogues and inspired other universities to collaborate with the UN and promote international engagement with NGOs and civil society organizations.
Keywords
Chiapas,
united nations,
development,
peace
Publication Date
September 10, 2009
Citation Information
Marco Tavanti. "Communities of Universities and NGOs for Sustainable Development and the Creation of Peace: The Case of Chiapas"
United Nations, Department of Public Information, Nongovernmental orgnizations (UNDPI/NGO)
(2009)
Available at: http://works.bepress.com/marcotavanti/25/