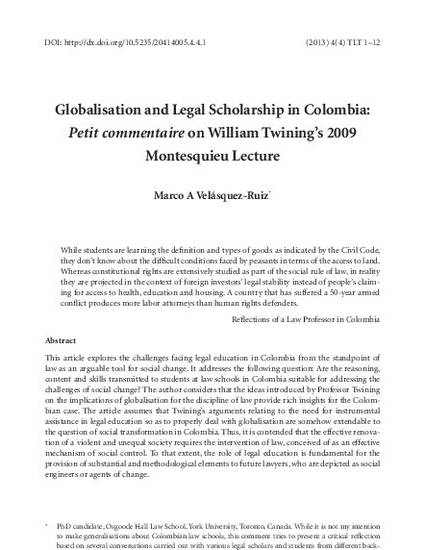 Article
Globalisation and Legal Scholarship in Colombia: Petit commentaire on William Twining's 2009 Montesquieu Lecture
Transnational Legal Theory (2013)
Abstract
This article explores the challenges facing legal education in Colombia from the standpoint of law as an arguable tool for social change. It addresses the following question: Are the reasoning, content and skills transmitted to students at law schools in Colombia suitable for addressing the challenges of social change? The author considers that the ideas introduced by Professor Twining on the implications of globalisation for the discipline of law provide rich insights for the Colombian case. The article assumes that Twining's arguments relating to the need for instrumental assistance in legal education so as to properly deal with globalisation are somehow extendable to the question of social transformation in Colombia. Thus, it is contended that the effective renovation of a violent and unequal society requires the intervention of law, conceived of as an effective mechanism of social control. To that extent, the role of legal education is fundamental for the provision of substantial and methodological elements to future lawyers, who are depicted as social engineers or agents of change.
Keywords
Legal education; Colombia; globalisation; social change
Citation Information
Marco A. Velásquez-Ruiz. "Globalisation and Legal Scholarship in Colombia: Petit commentaire on William Twining's 2009 Montesquieu Lecture"
Transnational Legal Theory
Vol. 4 Iss. 4 (2013)
Available at: http://works.bepress.com/marco_velasquez/20/